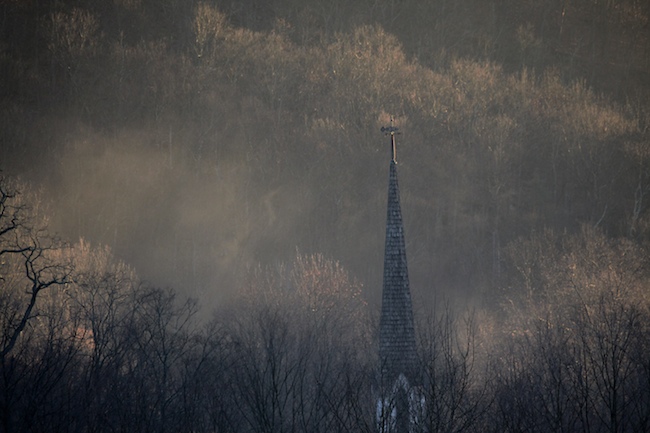 Methodist Church, Hebron, N.Y., Sunrise
I went shopping today and on the way back, foolishly listened to the news, this station on NPR. The consumer confidence index had risen for the first time in two years, said the reporter. But, added an expert, it had not risen as much as some economists thought it might, so it was not as good a thing as it might sound. And because of that, said a third expert, the Christmas Shopping Season – America's barometer of spiritual life – would probably be lousy. Translation: the good news was not as good as it might be, therefore it is really bad news, sort of, And it would be followed by more bad news. Added the reporter: still, the rise in the index for the second straight month suggestion the recession was actually ending. And that was good. Except he sure didn't sound good.
Lord, no wonder people are anxious. And this is NPR. On cable channels, it seems the Republic is disintegrating.
If you are not crazy when you turn on the news, you will be when you turn it off. This holiday, as all days, I am resolved to make my own news. And to take seriously the idea of giving thanks. And to list the good things and people in my life, and the things I look forward to in 2010. And they are wondrous, numerous and glorious. I wish the consumer confidence index well, and may it rise. Americans could probably do themselves a world of good if they skipped the Christmas Shopping Season a bit, avoided malls, and stayed home and talked to each other. That would not, of course, be news.