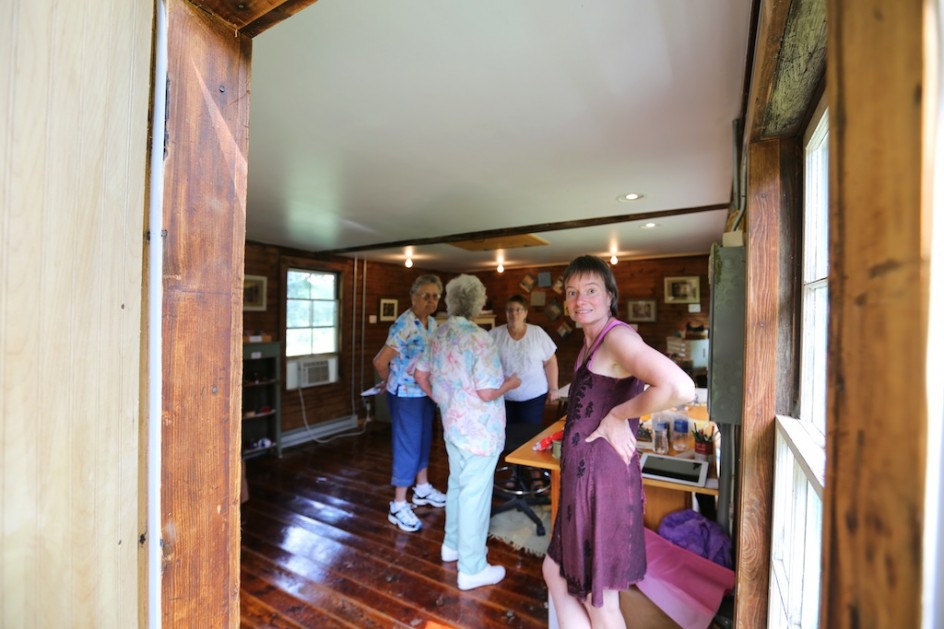 I have to be honest, the real star of the Bedlam Farm Open House is Maria Wulf, it is more evident every time. She simply brightens up every space she is in, she has boundless energy, mushrooming creativity. People cleaned her out of potholders and pillows, I think she has a few vintage hanky scarves left, they will go on sale tomorrow on her website and I doubt they will be around either.
Maria's generous, gentle and intensely creative spirit has suffused my life, our farm, the animals we live with and everything we do. There was a steady stream of people – hundreds into the Schoolhouse Studio which she magically transformed into an art gallery in a day or, I have never met anyone whose ideas and energy transform themselves into reality so quickly and beautifully. She sold out of her increasingly famous signed custom made potholders, transformed into functional art and now suffused with drawings, writing, philosophy and some animal themes (people keep telling her they are worth more than $15, she will not raise the price, they are her steady thing).
I was pleased she joined me in describing her sheep to the hundreds of people lined up to see Red. Someone wrote on Facebook that they could not imagine me at an Open House a year or so ago, and the truth is, I could not imagine being there today without this wonderful spirit, she must be an angel or a fairy sent her to lighten my life and the world around it. Tomorrow she will get to work making more great stuff for September 1 and it will be a joy to see it. If you want a hanky scarf, take a look.