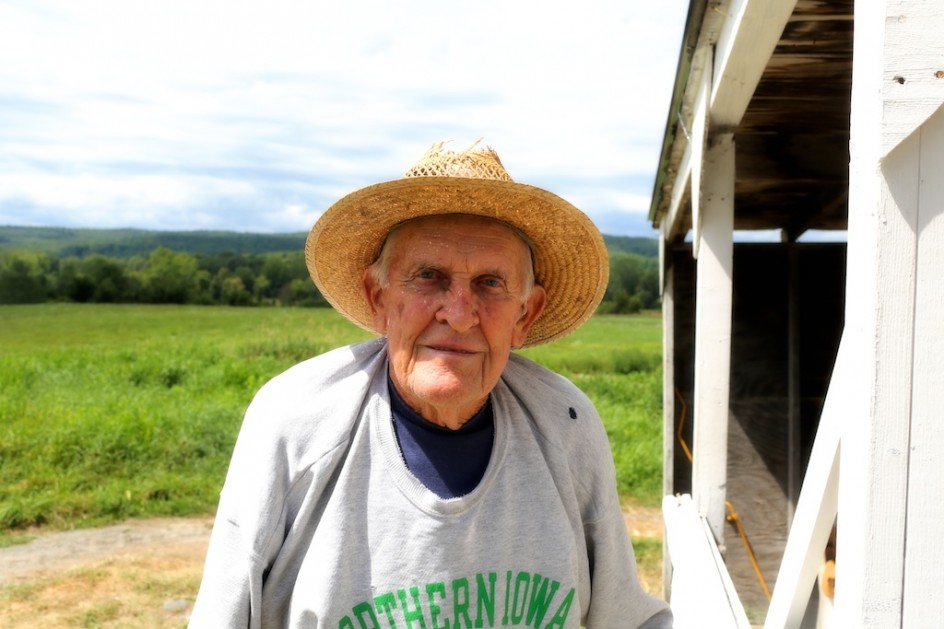 For two years now, two summer seasons, I have stopped to buy corn and flowers and to ask Steve, whose farm the stand sits on and who sells his corn for $5 a dozen, to let me photograph him. Steve has been as determined not to be photographed as I was to photograph him. Sometimes he said he was unshaven, sometimes too busy, often he just shook his head at my foolishness. Steve sells corn and Gladiolas and he wraps the flowers carefully in newspapers. His stand is well known in my county, he has a good spot on a busy road, his corn is much favored.
I told Steve that I would stop bothering him if he just came out of the booth for a minute and let me photograph him for a few minutes inside and out. He astonished me today by saying, "well okay," and I think he just wanted to get rid of me. His face was worth a thousand photos to me, there is a lot of life and character in it. All day, he sits in his booth, under his tattered straw hat, reading the paper, staring out at the road. He is a monument and record to another life, his farm is right across the road from the stand.
It was important to me to get a record of that face, you never see a face like it in a city and suburb, it is part sun, hard work, witness to a lot of life. I have a photo album of Steve – for me, this is all a prize – going up on Facebook.
(Tomorrow is my birthday, I am heading off in the morning to stop in Bellows Falls, Vt. to get my Jewish Pirate's tattoo and then have a day at a nice inn with Maria. I'll post in the morning but I wanted to let you know I am heading out for one day and one night. I am tired in the head, I do need it, I feel it.)