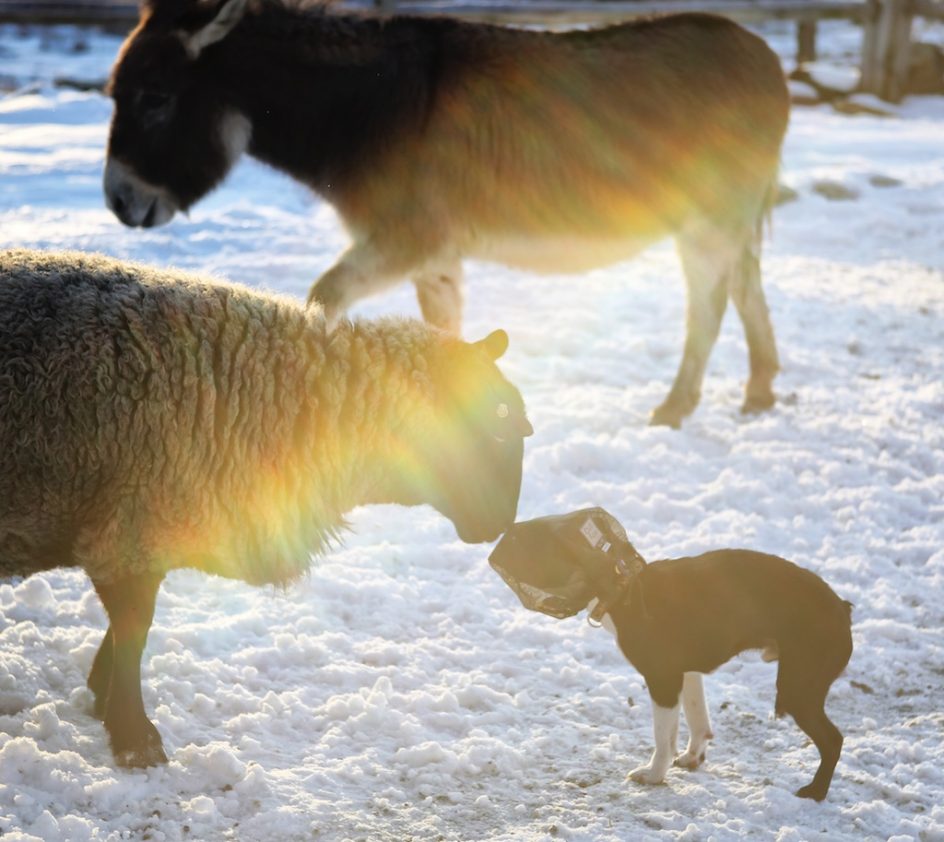 I had to laugh when I watched our ewe Susie check out Gus in his new muzzle. The sheep don't recognize him, but are no longer trying to butt him to get him away.
Gus has taken a hard turn in the last few days, the vomiting and regurgitating has returned with a vengeance. We had a promising week or so, but for reasons I can't really understand, the worst of the megaesophagus has returned.
He's spit up on the carpet, on the kitchen floor, on our bed, my sweaters, the living room furniture. We are using up the disinfectant and Nature's Miracle, the paper towels and plastic bags. It is not a simple way to live or a good way to live with a dog. He seems tired and struggling today.
We have become very attached to Gus, he is a member of our family now, and we love his spunk and energy an affectionate nature. He is everything we hoped for  in a small dog, except for his disease.
My hope is that this is just another in the many temporary twists and turns of megaesophagus. I am never myopic or delusional about megaesophagus, it does not go away, it cannot be cured, it can only be managed. And then, only sometimes. I'm going to change the diet again, smaller amounts several times a day, and switch to less liquid foods and mixes.
For the first time tonight, I thought, I don't want to live like this for years and years. At the same time, we are not nearly ready to give up on Gus, we are still in the beginning stages of understanding this disease and learning how to live with it.  It's an up and down disease, and I have to permit myself to go up and down without. Otherwise, there is no dealing with it, i am all too human.
One problem is that Gus can't go anywhere without scarfing up everything on the ground that can be eaten, even through the mesh on the new muzzle. As the snow melts, there is more stuff on the ground for him to try to eat, and sometime, when he has to go out quickly, we can't take the time to muzzle him.
Even one pellet or chicken dropping can make him seriously ill, and we can't construct a prison so safe and secure that he will never eat anything other than his prescribed food. Yes, I'm momentarily discouraged, because we had a good streak with no trouble. I would not be human if that didn't happen.
Back to the drawing board. A number of people have messaged me saying they will take Gus if we need to find a new home for him. We are not nearly at that point, I am committed to finding a stable solution, and if it does worsen, I am ethically very uncomfortable with handing over a chronically ill dog to someone else. That has never seemed right to me, speaking only for my self.
I will be honest throughout the process, of course, and we will make our own decisions. Now, our decision is to double-down and work harder to make this work.
I don't get discouraged often or for long, and we love Gus dearly, Maria and I are not frail and we are not quitters. I can't live with this forever, but I can do it for a long time and have many more things to try.