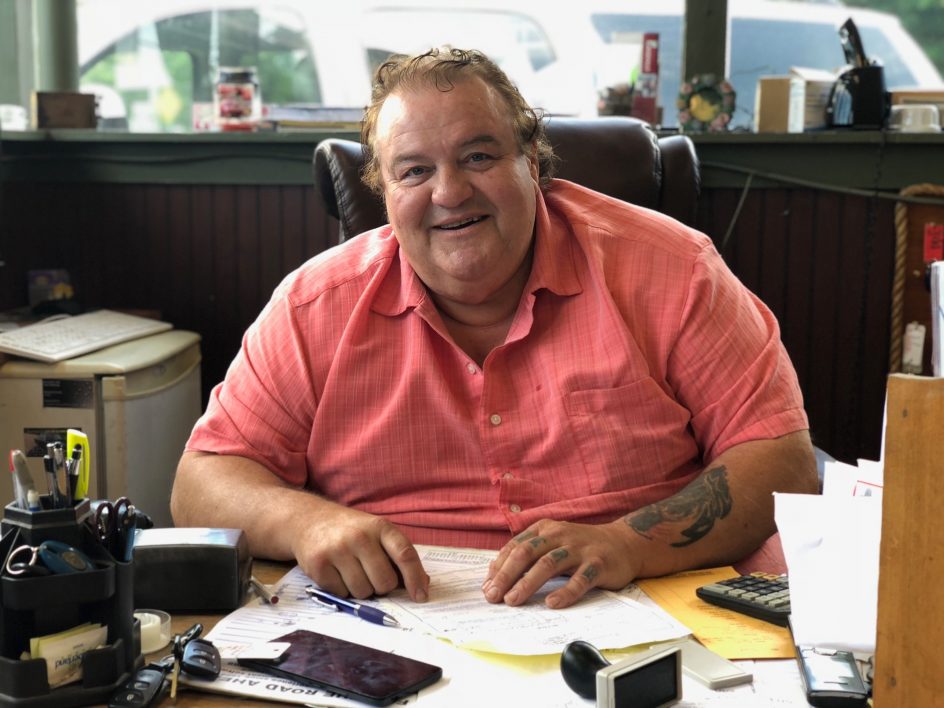 Don't let anybody tell you that all independent used car salesman are slimy.
We found a nice one and bought a used car from him this morning.
Maria did some first rate haggling and got herself a red Hyundai Accent with 93,000 miles on it. She insisted the brakes and pads be replaced, and Jerry, who has been selling cars for decades, agreed and they had a deal.
Maria's beloved and much maligned (by me) Yaris bit the dust Friday with a rusted out axle. I went scouting on a small used car business nearby run by Jerry and his two sons, and found this simple four-door red sedan. Maria checked it out and loved it. So it's hers.
Jerry and his sons are all nice and  honest, and extremely low-key. It was as pleasant an experience as buying car gets.Maria wrote a check for the full amount, we have no car payments, but then, no money either.
Lots of people in my town buy used cards from Jerry including Charlie, our mechanic.
Jerry is not into high pressure or tricks. We did some negotiating. Maria was cool and clear, Jerry was smart and  very pleasant.
We did well. We aid cash, no payments, clean car with no real problems. And no bank account left either.
Maria and I  a good team. Like everyone else, we were not planning to buy a car just now, but life is like that, it runs on its own schedule.  And she got a decade out of that little lawn mower with tires.
These are her cars, old and new, and I stayed out of it.
I enjoyed watching her go at it with Jerry and kept my mouth shut,  I was not needed. I did have this thought that I didn't want to be a man who took over this process from a woman. No need to worry, and Jerry picked right up on the dynamic. Maria was in charge.
Jerry was firm, but we got to a good place, Maria got the car for $6,650.  She decided in advance not to go higher than $7,000. She will pick up the car tomorrow, new brakes and all.  The Yaris goes to the junkyard.
I admit to disliking the Yaris, although it served Maria well. I never quite got over the trauma of watching her sail  off to work in blizzard after blizzard our first winter together in that little car with no snow tires.
She always made it through even the worst storms, but I named the car the "Toilet Bowl" and never forgave it for scaring me every Sunday all winter. I had finally found the love of my life and this little car would take it away, I feared. The car never did fail her.
There was nothing wrong with the car, it was me who was broken. But that was then and this is now. The Hyundai even has four  doors, a luxury for Maria. I hate to see the bank account take a big hit, but this turned out as well as buying a used car can turn out.
Everybody says the police love to pull over red cars, but Maria doesn't drive all that much and she never speeds.
I won't assume that small independent car dealers are sleazy. Jerry is  nice and straightforward person. I would recommend him without reservation.                                                                                                                                                                                                                                                                                                                                                                                                                                                                                                                                                                                                                                                                                                                                                                                                                                                                                                                                                                                                                                                                                                                                                                                                                                                                                                                                                                                                                                                                                                                                                                                                                                                                                                                                                                                                                                                                                                                                                                                                                                                                                                                                                                                                                                                                                                                                                                                                                                                                                                                                                                                                                                                                                                                                                                                                                                                                                                                                                                                                                                                                                        iiiiiiiiiiiiiiiiiiiiiiiiiiiiiiiiiiiiiiiiiiiii