Bishop Maggins High school sits like a stone fortress next to the vast green park that once bordered on an earlier incarnation of the school in its bigger and richer days. Bishop Maggins, like so many urban Catholic institutions, is a symbol of the modern Catholic Church in a way,  the last Catholic High School in the city of Albany.
It sits almost in the center of the city, the big government towers loom over it. You wonder if the world hasn't passed it by. I was happy to learn this wasn't so.
The Church and its institutions are struggling these days, it's troubles are well documented elsewhere.
But the Catholic Church also has a different history, is a different symbol,  one that gets lost in all of the scandal. One that Bishop Maggins High School also personifies: the first choice and last resort for the poor, and for the refugee children in need.
When I was young and in trouble and searching for help for me and my sister, nobody would help us, and a friend said "go see a priest, they have to help us." And he did.
Almost all of the school's 130 students now are either refugees or students of color. The powerful Christian ethos of caring for the needy and the vulnerable is alive and well at Bishop Maggins, even if it is fading elsewhere, even among people who call themselves Christians.
I spent much of the afternoon there. Everyone I meet asked me to listen to the music  the students want to make, the school is aching for a  choir.
I met with the principal, Mike Tolan, a very kind and thoughtful man (and to my surprise, a reader of my Thomas Merton mountain ode, Running To The Mountain, perhaps my favorite book of mine.)
We have so much in common (he even loves Labs.) I felt so at ease there. I felt as if the knew me.
As many of you know, I have been working for several years on different ways to help the refugees, in great need and distress in today's America. I felt the angels led me to Bishop Maggins today, where I met with Principal Tolan, some teachers and students.
There are 35 Karen students from Myanmar and Mike Tolan wants the school to recruit and absorb as many refugee students as possible. He is called to this work, and he  sees a part of Bishop Maggins mission – and it's future –  as a haven and learning center for the refugee children in and around Albany, many living in poverty and even persecution.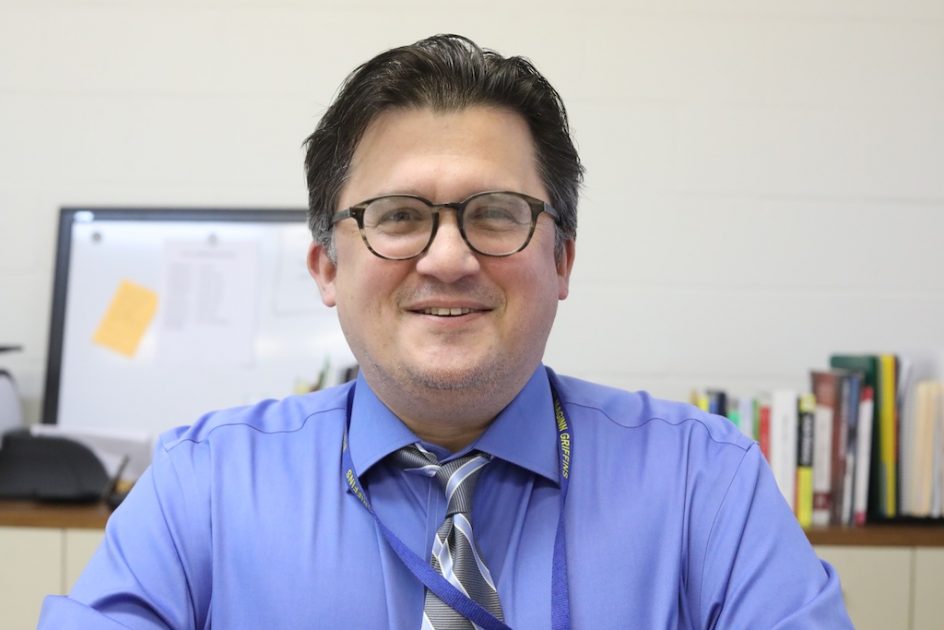 (Principal Tolan, lover of Labs)
The school has put its money where it's heart and soul is, tuition there ranges according to need and ability to pay. It ranges between a few thousands dollars and six or seven thousand dollars a year.
We can make a huge difference there. I want to work with them, and have never felt more welcome or connected. The school needs just what we can sometimes give.
Mike and I talked for an hour about the refugees, how the children become the parents when the parents can't speak English or make a lot of money. The children are their future, why they've fought to hard to get to America.
As I've written, while I am not conventionally religious, I have always identified with the early Christian theology of helping the vulnerable rather than the rich.  I felt that idea very strongly at Bishop Maggins, it drew me very much to the school and lifted my heart.
Perhaps it's the spirit of Thomas Merton, so alive in Mike Tolan, and hopefully, in me. I felt a lot of hope in that school today. I felt Merton's presence.
I hope to steer some special needs refugee children in the public schools to Bishop Maggins and also to continue my work with wealthier private schools like the Albany Academy.
Mike was enthusiastic about my suggestion that the school start its own Bishop Maggins Wish List (this will be the fourth Wish List I have suggested) so people (yes, the Army Of Good) can contribute directly to the school if they wish, and also so the school has an simple way of posting its needs.
These Wish Lists work, everyone I suggested has been a success.
Sue, the school's art teacher and Mike both told me the students in the school desperately want to start a choir, but there is no money to fund it. As he described it to me, it should not cost very much money at all – a few instruments and perhaps some music.
I know they would love to sing at the school and all over the city. I saw they were surprised that someone from outside their community would want to help, let alone hundreds of other people they would never know or see.
They are a Catholic institution, but they don't force any particular religion on the students, they see helping teach  these children as their spiritual mission. They do not seek converts among the students. The Karen refugees have their own very distinctive, ritualistic and  festive faith.
I think we can really make a difference in this school, small acts of great kindness will go a long way there. Some of the students spent the winter sleeping on the floor of small apartments because there was no money for heat. I've heard these stories again and again, they can break your heart.
For many of the refugees, they never get beyond suffering, they only hope for more for their children.
By now, you know these stories as well as I do – violence, terror, flight, years in refugee camps, a new life in tiny apartments with part-time jobs at Wal-Mart or cleaning hotel rooms. It's hard being a refugee. It's hard being a new refugee in America in 2019. It's hard to earn a new language in school, and hard to be taunted and bullied.
The kids I met today could not have been lovelier or more enthusiastic about their school, or better or more conscientious students.
Their families worship the power of education. The children need no prompting to study or do their homework. Their teachers describe them as the best students they have ever seen.
You can  hear two of the students I met today singing here, it's posted on the school's Facebook Page.
When I get an estimate about the choir, I hope to try to raise some money to get it started.  I don't think it will be much. I've also suggested the Amazon Wish List Page.
The art class is desperately in need of art supplies, and I think we can also support some of the short and local class trips the school students can't afford to take.
The tuition shortfalls are dramatically shorter than those at the Albany Academy.
I believe we can also easily get some of the refugee students – some are bored, some are bullied where they are – into Bishop Maggins. Some of them are in desperate need of smaller classes and more individual attention.
I'm not conventionally religious, but I believe I was drawn to Bishop Maggins. Everything about it felt right to me. The staff there has been reading about the Army Of Good and there is nothing but goodwill and gratitude towards us.
I'll keep you posted, and thanks.