I haven't seen much of my friend Scott Carrino lately, he and Lisa had to close the Round House Cafe after they were not permitted to offer takeout orders from their Hubbard Hall Arts center location in the middle of Cambridge.
Closing the cafe was a hard choice for Scott and Lisa, they exhausted themselves trying to make the cafe work. But they're back at work offering healthy and delicious organic  takeout now from their Pompanuck Farm location a few miles out of town.
But then there is good news. He has a dog!
I see Scott every week now on Friday when I go to pick up his gourmet pizzas and strawberry gazpacho soup and their new takeout menu. I'm sorry to say we drifted apart these past few years, but I still feel a strong connection to him. He deserves some peace and success.
When Maria learned there was a puppy on site, she was eager to come too.
I have no doubt he will find both. The loss of the cafe was a real blow to the town, and thanks to those of you who supported the Round House when it opened up.
Scott seems happier and more relaxed than I have seen him in a long time, and their plans for Pompanuck Farm are pretty exciting.  They're going to offer farm-to-table meals, takeout and other special music evenings.
"I am so happy!', he texted me this afternoon. God bless dogs and the joy they bring us.
Scott is taking songwriting lessons.
He is wildly in love with his new puppy, a nine-week-old Sheepadoodle named Lou.
I'm not sure I've ever seen Scott quite as happy as when he talks about the dogs. I like to say you get the dog you need and Scott really needed this dog.  He got the one he needs.
He just beams when he looks at him.
I can testify to the healing and spiritual gifts a dog like Lou can bring to people. Scott had a dog named Dioggi (Dio) that he loved very much, he was the ugliest dog I think I have ever seen, but he was beautiful to Scott and Lisa, in the way of dogs.
All of the dogs we love are beautiful to us. Dio died a few years ago, and Scott has pined for a dog ever since.
Lou is a very different kind of dog, but Scott has the same loving look around him. I joked that he had gotten an F.A.O.  Schwartz dog, he would make a great stuffed animal.
It was fun to see Lou, who is quite adorable and affectionate. I have a feeling this dog might bring us closer again.
I realized that Zinnia is not really a princess at all, but a big, clumsy goof who loves to roll in mud and eat revolting things. She is all dog.
Sheepadoodles were first bred in the 1960s and are known for being loving, playful, and smart. They are a mixed breed dog, a cross between the Old English Sheepdog and Poodle dog breeds.
They go by a lot of names, including Sheep-a-poo, Sheeppoo, Sheepdoodle, and Sheepdogpoo. Lou looks to be a great dog. I brought some new and healthy treats I give my dogs – they are free of chemicals, digestible, and approved by vets.
They are great training tools – Better Belly digestible rawhide chews and Dingo Dental Sticks.
I'm wary of most rawhide products, but these new versions are healthy and easy to chew and process for young dogs. I talked with Scott about my ideas for housebreaking Lou who is affectionate and I believe, very trainable. He has been told it takes 7 to 10 days.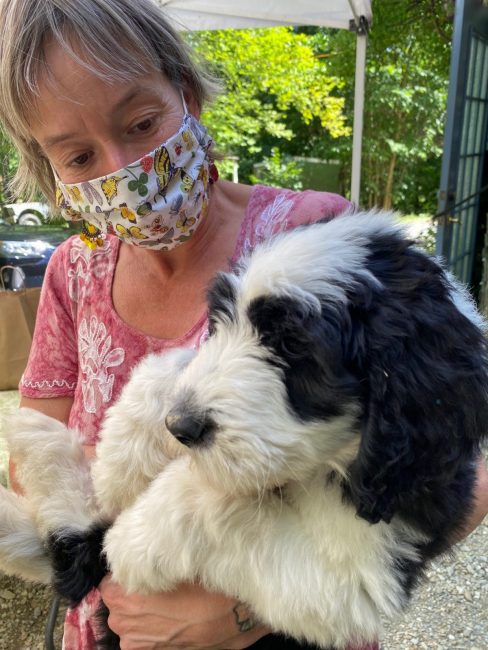 I think my method can beat that. We'll see.
It's a gift to see someone so happy about getting a dog. This dog will have a great life. Scott and Lisa will both be working at Pompanuck from now on they have a beautiful 40-acre farm in the hills for Lou to explore and walk on.
The coronavirus has caused an awful lot of casualties in America, and there are more to come. I wince when I think at all of the victims, living and dead.  I wish Scott and Lisa and Lou every happiness, it lifted me up just to see them together.
Dog's matter.