The first ever Mansion Circus, the brainchild of Activity Directors Paryese Becker and Bonnie English, kicked off at noon Friday, Maria and I were honored guests.
The Army Of Good sold out the Amazon Wish List wish asked for help in buying decorations, games and small prizes. It was a big and joyous hit, the residents were laughing swarming the roulette wheel, dipping for rubber fish and eating popcorn, cotton candy and animal crackers.
We also bouht them the big raffle prize of the day, a big bear that everyone wanted. I knew this would be a bit hit at the Mansion.
Activities Director Bonnie English was the fired up ring master, she did a great job of pulling off this circus, it offered everything a good circus offers (except animals, though we did bring Zinnia) on a level the Mansion residents could enjoy and participate in. Everybody seemed to win something, the roulette wheels were mobbed.
Maria took this video, above.
There wa a very busy fortune telling booth – all visions of the future were good. Zinnia at a lot of popcorn. And the raffle tickets I bought online worked out beautifully.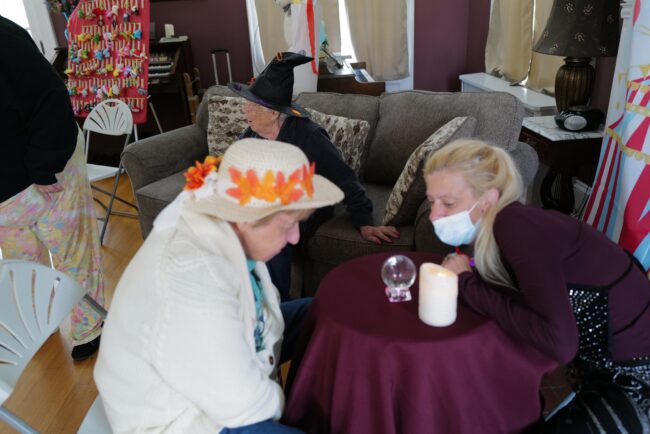 Madame Tania told June her future was cheerful and bright. The circus had tickets people were given so they could pay for their games and exhibits. The tickets were used in a raffle for a giant bear.
Just about everyone at the Mansion offered Zinnia some popcorn, which she happily ingested. She never says no, as she was trained to do.
I can't get them or the refugee kids to stop doing it. It's not good for therapy dogs because it can distract them from their real work, which is people.
But when the food is gone, Zinnia understands her role, and goes and greets just about everyone in the building, certainly everyone at the circus. She is so loved there, it is wrenching sometimes to see.
Maureen was a big and happy winner at the roulette table, she won cotton candy, fake jewelry, a bag of animal crackers and popcorn. She was, she said, very pleased with herself. She was my favorite portrait of the day.
Debbie won a prize dog and a bag of candy. She was elated. It was, she said, the best circus ever.
The big bear was the big prize of the day, the raffle winner. I was asked at the last minute to find a good prize, I proposed a big bear, which almost all of the residents would love.
I had one day to find him, and managed to deliver it at the very last minute.
I was proud of the circus, it was mostly funded by the Army Of Good and the Mansion Amazon Wish List, and it was a great gift to the residents, who were very happy to see it and participate in it.
There is a push on to give the residents some of the things they missed during the pandemic. This is a great start, so was the trip to the County Faria. Thank, you, thank you.
There was a game for everybody and everybody was a winner. It feels great to do good and support good. Thanks for your support of the Mansion circus.
Madame Tania, who hopes to be a horror movie star, loves telling fortunes. I asked Peggy what Tania predicted for her. "She said you would buy me some word search books and some puzzles," she said. Peggy is no slouch.
Oh, I said, thinking quickly. "They are on the way." They are now.
Meg, one of the sweetest people I've ever met, asked me if she made a good sorceress. I have to be honest, I said, you are much too nice to be a sorceress. But perhaps you are a good witch.
"Thank you for that," she said. Meg is a memory care resident who never misses a meditation class and never forgers who I am, even when she forgets my name.
She always takes me by the hand and says "thank you."