Holidays are tranquil at the Mansion. Many of the residents are away with their families having Thanksgiving Dinner. Others say in their rooms and keep to themselves.
Thanksgiving is a bittersweet day at the Mansion, with memories of days lost, families scattered, and lonely holidays for some. Most of the people we see are complaining but said. They miss cooking those dinners and sitting with their families.
They are grateful to have visitors and excited to see Zinnia. We don't try to cheer them up or force happiness and joy. Holidays are hard for them, and we know it.
The residents keep track of who shows up and who doesn't. We always show up on holidays.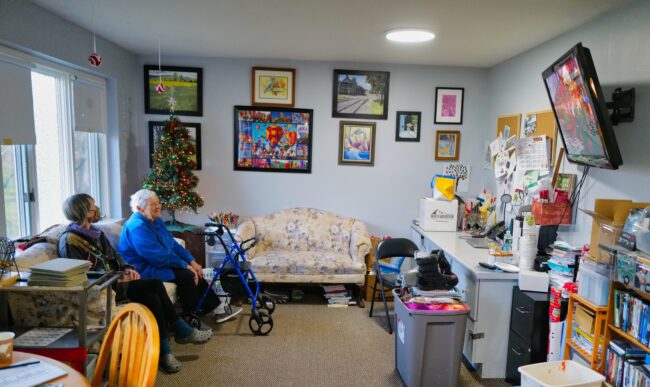 Maria and I habitually visit the Mansion on  Thanksgiving and Christmas. I hope to be playing the Ukulele well by then. I brought underpants, socks, scarves, jeans,  and some shampoo.
We walked the halls with Zinnia, greeting people as they came in and out of their rooms.
We sat in the activity room with Meg and some other residents and watched the Macy's Parade in New York for a while. We made sure everyone who wanted to see Zinnia saw her.
Meg watched the screen for a while and then turned to me, saying, "I took my kids there once or twice." That was all she said.
Zinnia, as always, was beautiful, she greeted everyone she saw, and when I sat down to watch the parade, she sat down at my feet and went to sleep. The Mansion is just another extension of home for her.
The aides are quiet on holidays and loving; most are young women who volunteer for holiday work so the aides with families can be with theirs.
They care about the residents but sometimes have difficulty relating to their feelings. For most of the residents, holidays are about loss, not celebration.
They are in very different places. But they like visitors also.
One of the residents got sick at lunch and vomited in the hallway. I was touched by how supportive and understanding the staff and other residents were.
The Mansion is a loving place, and it feels good to visit them when they most want company. I learned early on to let them be where they are and not to try and take them to a different place.
They have the right to feel what they feel, and it is a powerful and good feeling to see what a visit and a dog can do to bring people up when they need a life.
Thanks for supporting this work all year in donations and Wish Lists. It matters.