After dinner, we had some choices.
I'm still recovering from my head cold but getting better, and I'm still required to wear a surgical boot and walk as little as possible for another week or so, so our options were limited as we ended our Peaceable Week.
We liked it a lot, and from now on, we will meditate together every morning and make sure we find some silence every day. I did a lot of good thinking.
We'll watch some streaming later tonight  – "Reservation Dogs" and the first two parts of the "Chippendale" series (both on Hulu), which we found surprisingly compelling.
Yesterday we watched the final episode of "Derry Girls," which we both loved very much and consider one of the best series we've ever seen on Netflix. "Derry Girls" was genius, mixing humor and pathos brilliantly.
I'm almost done with the novel "This Is Not The Time To Panic" by Kevin Wilson, and I like it very much. I highly recommend it.
(Our two bars of soap, soon to be felted. One from a goat farm, one bar of Ivory.)
My idea tonight was for Maria to teach me how to make some felted soap with the remains of her wool roving. She graciously agreed; she is kind and generous. I wasn't up for Monopoly. Maria likes Bird Monopoly, where bird names are substituted for street names.
I started my reporting career in Atlantic City; I'm a purist.
So we sat at the dining room table and began melting two bars of soap.
This is labor-intensive work, so we limited it to two bars. Maria made it clear she had no intention of ever making or selling felted soap.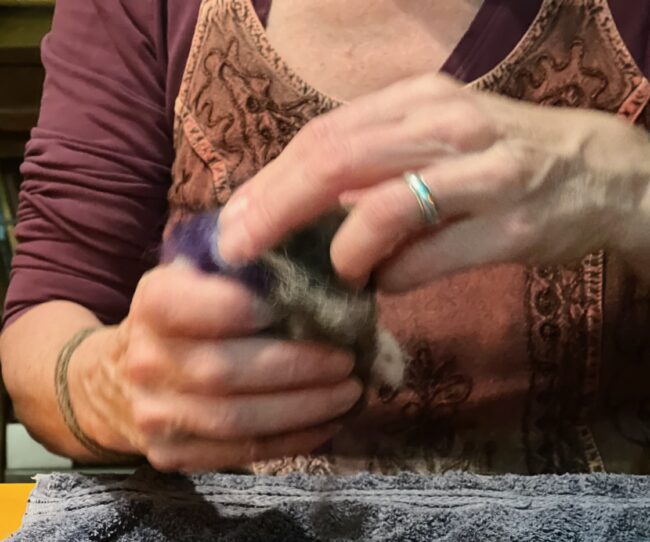 We chose strings of roving (the dogs ate the longer strips, we left them out one afternoon. The idea is to wrap the roving around the soap, including the corners. Above, we covered the roving all around the soap.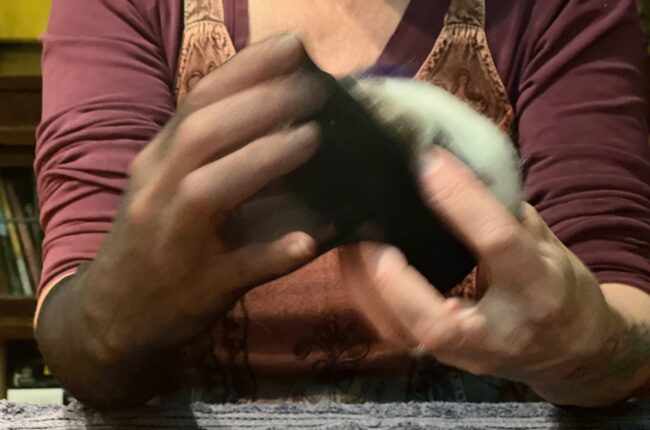 We put the felted soap in knee-high nylon stockings made known, soaked them in water for five minutes, and then rubbed them all around intensely and thoroughly.
We pulled the soap carefully out of the stockings they were wrapped in.
Finished.
We soaked them again in water and pulled them out of the knee-high nylons. We'll leave them to dry overnight. They feel great. I'm anxious to use them. Maria is out of roving, so no more felted soap until late next Spring, if ever.
I did okay with some help. My bar is on the left above; Maria's is on the right.
The soap foams up when you use the bar, and it's like soap with a soft towel.
We'll put the bars to work quickly. Maria is a good and patient teacher, I messed up the wrapping (and the rubbing) of soap, but she straightened it out.