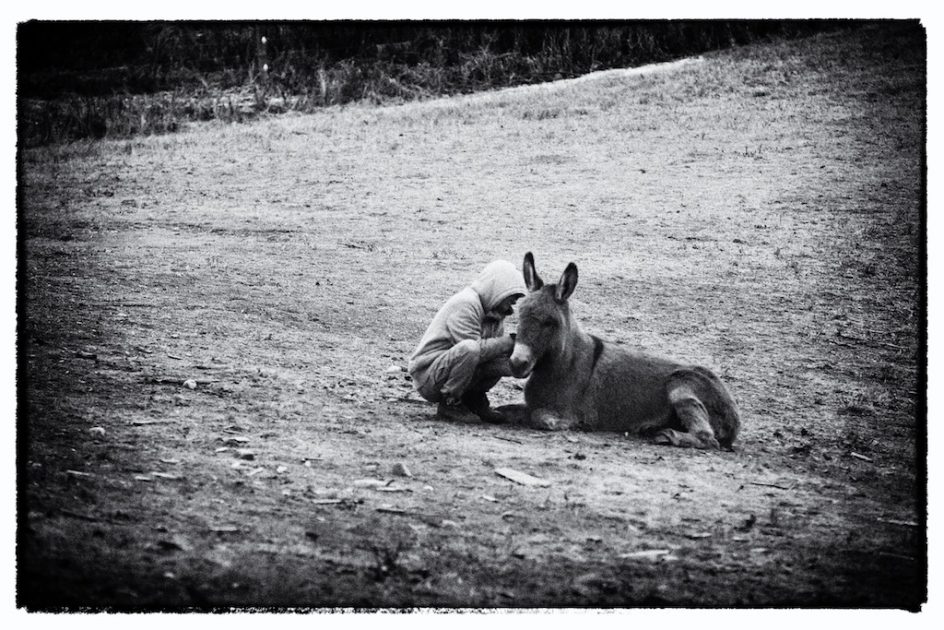 You will not, of course, have heard of me, I will never be on cable news or write as a pundit or influential commentator.
I write books and publish a blog, and I do have a lot of readers – four million last year – and a good number of them are in Florida, so I imagine one or more of you might get to read this.
It isn't important, really, I'm writing this more for myself than anyone. Something I needed to do. The pain inside of me was great and growing today, and so was the anger, I needed to reach out to you in the only way open to me.
I live on a farm, I am not a farmer, but a writer with a farm, and my heart is broken today, and again and again. I guess my heart is getting used to it, it's still going. And yes, I have a gun and wish to keep it. I need it.
Like you, I keep thinking they will do something about this, they will have to act this time. Hour by hour, I see that they won't.
I suppose there is something wrong with me, I simply cannot get used to what happened at your school yesterday.
I felt especially helpless watching all those videos and reading all those stories about the killings at your school, it feels so familiar, even predictable, the sirens, SWAT Teams, shouts, texts and messages, the terror and tragedy, the shattered dreams, the weeping and ceremony, the devastated mothers and fathers,  the visits to the wounded and First Responders.
We know the script by heart now. It's a time for prayers, not politics. It's too soon. It's not about guns.  I suspect many of those poor children in your school died praying.
I see a lot of people are getting used to it, I can't.
I went right out and brought clothes to some elderly people in an assisted care facility.
It was all I could think of to do, and it felt good and grounding. I don't wish to be one of those angry raging people on Facebook, that is a killing thing to me.
Whenever I get angry, I try to go out and do good. I wish I could do some good for  you.
I reject the labels of the right and the left, labels are for people who no longer wish to or can think for themselves, as some of you are beginning to see, from your comments today.
As a father, I can only barely imagine what you and your parents are feeling, I would not presume to even address it, and you don't need me to tell you about it. I have nothing worthwhile to add to it, a writer out of words.
I can tell you that a bright spot in the darkness for me was reading the quotes and interviews and comments by you – the other very brave students who got in front of those cameras and stood in their truth. You just cut through it.  There seems to be an army of polished liars out there, they block and color and hide from the truth at almost every turn. You just blew them away like milkweed on the prairie.
Our country was founded by people like you, people who stood about the lies and the fray and the corruption and spoke truth from the heart. My wish for you is that you never stop, and if you don't, good will come of this, as some of you have vowed already.
One of you vowed that your generation will fix this. I pray you will do better than mine.
I've seen too many reports from too many shattered schools to count any more, but I have never seen more eloquence, truth and heart than I have seen coming from you today. You are making a revolution, something different. Like you, I believe change can come, and I believe it will come, all the more so for watching you today.
Many of us out there in the ether are hearing your comments and moved to tears. You are, in many ways, a Godsend, because the young will inherit the earth, even as my days are growing shorter.
I'm not especially political, but it is horrifying to me that our country abandoned you and your murdered friends and so many other children in this awful way. John Locke  wrote that the primary function of government was to protect its people.
As one of your teachers told a reporter yesterday, your government has failed you.
When the politicians look you in the eye and tell you that you will never be alone, I wondered what they imagine happened yesterday when you were  all hiding beneath desks with your cell phones and shaking in  terror,  as alone as any human being could be, and as children ought never be.
Can they believe what they say? Where were they then?
Not too long ago in my lifetime, the idea that disturbed and broken people of any age could buy unlimited killing weapons made only for the slaughter of people and permit them to be used again and again in schools where children sit helplessly and innocently as targets was simply unimaginable.
It had never happened. It could not be imagined, because we lived, for all of our divisions, with certain common truths. One was that we protected our children, by any means, an at all costs. Period. This sacred value has been brushed away.
Now the murder of children is commonplace, just another story story riding up on the never-stopping cable news conveyor belt and out of sight and mind in a day or so, or a week at most. After all, the stock market is up, the corporate profits are high. America is happy.
The people who manufacture guns are smart and savvy.
They gave $3.3 million dollars last year to one of your senators, the one who said the issue is complex and that such slaughters of innocents are not really preventable. There is really nothing we can do, he said. At least we know now what a U.S. Senator costs.
Not so, one of you said on television. We can prevent it. We must prevent it. We will prevent it. Good for you. No one your age has said that before, or so eloquently. We are kids, said another,  you are grown-ups. You have to fix it.
I had this awful thought that as our political leaders squirm and evade and finger point again and again to vulnerable refugees and immigrants as great dangers to us and our way of life. Hiding behind prayers is especially disgusting to me.
We have been so distracted by lies and tricks that we have failed to grasp who the real  terrorists are, and where they live, and who they can buy with their unlimited money. They don't have to steal trucks and plow into people and  kill themselves.
They can just write checks to the people who have sworn to protect us, and let the broken and lost people buy their guns and  do the rest.
They have killed more of our children than any terrorist from any other place. You might want to know that since the shootings in Sandy Hook, Connecticut, more than 400 teachers and students have been killed in America in school shootings.
I was impressed by the clarity and strength of your comments. You cut right through the bullshit like a knife through jello.
Several dismissed the politicians's call to prayers and scoldings for mentioning guns so soon, they called for thought, rather than action, and they said the problem wasn't guns, it was mental health. If they can't blame the refugees for this one, they can blame the mentally ill, another class of handy and helpless scapegoats. When will be stop looking for people to blame and just fix it.
One of you told the politicians not to dare to tell you when to pray or what to think and when to talk, or what this is about,  they were not, as you were, lying under a school desk while your friend and classmates face was blown off. How dare they indeed.
I admire your thinking for yourself, for not succumbing to lies and political cowardice. I hope you can find the strength to keep speaking truth to immoral power. You are up against a big wall of money and greed and ignorance and hate.
This story belongs to you, as the future belongs to you, when people say this is hopeless and things will never change, I thought of your powerful statements today, your promises that it can change, and that it will change.
I believe that, and I believe you.
You are the future to me, I I don't have the time ahead of me that you have. It is my fervent wish to live long enough to see you be right.
If people like me can assist you in any possible way, I will be there. And I will be applauding you and rooting for you as you seek the courage and purpose to heal this great and awful wound.
No culture that sacrifices it's children in this horrific way, and for money, can survive. You are the hope and the future and I send you all of the strength in my heart and soul, I hope the spiritualists are correct and that energy can be sent to another person or people..
I needed to write this, I suppose, because like so many others, I hate feeling  hopeless.
We are all deafened and numbed by the arguments of the left and the right, and saddened at the paralysis and cowardice of our government and its leaders.
We are sickened by argument, and exhausted by false rationales. I don't they even they believe what they say. The entire civilized world looks at us in shock and horror, and gives thanks for not being us. We are covered in shame.
I'm afraid it's really on you now, all I can do is stand on the sidelines and wave a handkerchief and make sure to vote, maybe wave a flag or two and march. And in your honor, I will continue to try and do good every day, to perform small acts of great kindness wherever I can. Thomas Paine wrote that his faith was to do good, and I see that is yours and I hope that it is mine.
I guess, if you'll permit one observation, the challenge is to stay that way.
There are many good people out there, and we know right from wrong and truth from lies and compassion from callousness. You are heroes to us.
I am proud to say that the people who manufacture weapons would never dream of giving me a dollar, let alone 3.1 million dollars. You won't get a penny either.
For that, at least, I am proud.
And for you, I am prouder.