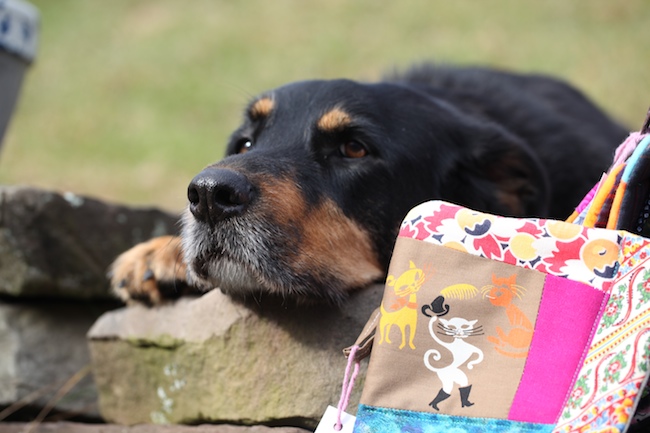 Frieda loves to pose with Maria's potholder. She is a working dog, through and through and loves to be photographed, and help earn her keep. She even posed with one of Maria's newest creations, a cat-themed potholder. Maria's potholders are changing, evolving, in ways I can't quite describe. They seem different to me, more coherent somehow. But Maria says they are always changing, always a little different. I'm not objective, really. We went to Glens Falls today to hang some in the Rockhill Bakehouse Cafe. Also visited the Red Fox Bookshop to see Naftali and Susan. Also went to LARAC (The Lower Adirondack Regional Arts Council, where I will be conducting two story-telling workshops and showing my "Last Days Of A Dairy Barn" photos) to see Patrice.
It was great walking through Glens Falls with Maria and her mother. We had vegetarian chili and bread at the Rockhill Bakehouse. I ran into an old friend who came to disapprove of my life a year or so again and has stayed away. It was a painful but nice encounter.
Tonight, we are going out to dinner. Tomorrow, I'm taking Maria's mom to the Union Village shop on Main Street in Greenwich, from 1 to 3 p.m. with Izzy to sign copies of the ASA Calendar and also sign my books.