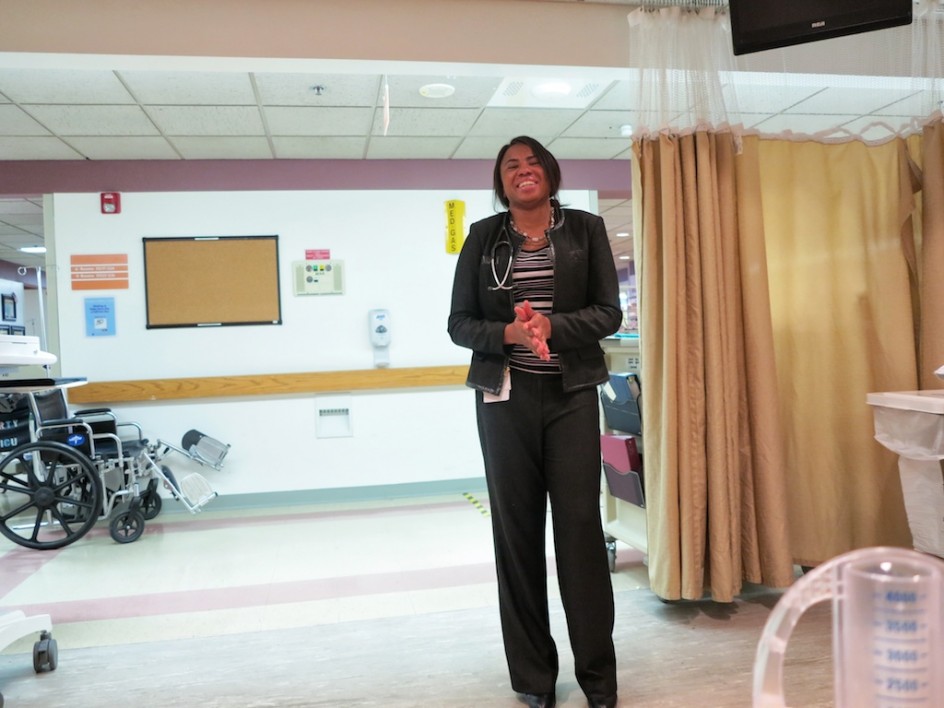 I thought it was a vision when this beautiful, charismatic, high-style woman walked confidently into my hospital room, introduced herself as my cardiac surgeon and told me she would be cracking my chest open in a couple of days. "It's pretty routine, really," she said, "I do it every day. The really creative stuff is the aorta, those surgeries were quite creative and exciting."
Dr. Adanna Akujuo almost never stopped smiling, she had a permanent twinkle in her eyes, and the poise of a movie star. I will be honest and say she was absolutely nothing like the generally grim and businesslike and somewhat irritable male doctors I had encountered for the past several days. I was enchanted. I think I had a crush on my cardiac surgeon. Maria said she understood.
I did not expect my surgeon to be a woman, I did not expect my surgeon to be from Nigeria, then to Albany via Manhattan. She was as comfortable with herself as almost any professional I had met, she exuded both confidence and humanity. She combined the necessary arrogance of the surgeon with the empathy and sensitivity and intuition of women, or so it seemed to me. She knew I was disappointed about not being able to use my camera for months, so she took a photo of my heart. I do not think the other surgeons would have done that. The men were different – serious, generally humorless, competent, reserved.
Did it trouble me that my surgery, my life,  was in the hands of a female?
No, I must say that that did not occur to me. But it did bother some people. Two of the other men in the ward asked me if I was comfortable with a "woman cutting me open," and late at night, one of the ward nurses came in and told me Dr. Akujuno had a great reputation and was very well regarded. But as she pulled down my sheets and bedtime, she surprised me by saying with some feeling that "personally, I would want a man operating on me." I was surprised, it was not a professional thing for a nurse to say to a patient about to undergo bypass surgery done by a woman. I had no doubts. Strong women may yet save the world, as they have saved me.
___
We live in a world of warnings and alarms, I do not intend to add my voice or words to them. I will not become an anti-smoking advocate or badger people to get EKG's or take daily walks. There are so many warnings and alarms in our world – we need health care, IRA's, retirement, tests and procedures, pills and other things – that many people live their lives in a new kind of cultural slavery, working and living only for money and security, giving up life in order to feel safe. My blog and my writing will not be a source of more alarms and scolding, that is one of the many scourges on Facebook. People are afraid to put photos up of dogs in cars for fear of being accused of boiling them to death.
If people decide to check their hearts out because of something I wrote, all the better, but boundaries are important in our world and so is  free choice and will.
This is my story, we all have to tell our own story and live with it. I respect yours, I ask you to respect mine. I am not here to tell you what to do, I am not here to be told what to do.
___
I am returning to life in small ways, day by day, step by step. The radical thing about open heart surgery is that they stop your heart and shut down the reset of your body as well with anesthesia. It is common and generally safe procedure, but such a thing is loaded with risks – clots, strokes, aftershocks, side-effects. Most of your body ceases to function, your lungs collapse, your bowels are paralyzed, you sweat at strange moments, you can't use anything but your legs to stand up, you cannot dress or bathe yourself. If I don't move around, my lungs fill with fluid, I am wracked with painful coughing. My stomach has felt for days like I have been eating bricks and sand.
The surgeons care about your heart and once they know it's okay they send you home, where  you are own you own and some of the real healing begins. You have to wait for the body to catch up. Some of this is emotional. Seeing Simon, seeing Red, not living in fluorescent lighting with sick and dying people, writing on my blog, being at home.
I believe Bedlam Farm has always been a healing place, for me, for the animals. In a small town, you always feel you matter, you do not feel alone. A friend came to mow the lawn without being asked. Another friend stocked the refrigerator with food. Another went to Saratoga to buy me loose fitting pants and shirts – my body is laced with stitches, wounds and (to me) dreadful scars. Another has volunteered to run errands, drive me to good walking places, sit with me when Maria has to work or go out, give me a massage, bring me food.
My nurse was stunned when I called O'Hearn's, my independent pharmacy in a panic as we were packing up and told her I needed some prescriptions urgently, I was coming home and I wanted to deal with Bridget, my pharmacist rather than a big chain. I had Bridget's home number, I left a message. My cell phone rang five minutes later and it was Bridget: "what's going on?" She got on the phone with Maria, gave us her home address, told us to stop by on our way home and she would have everything waiting in the morning before 9 a.m. We dropped the prescriptions off.  The nurse said she couldn't believe there still was an independent pharmacy left anywhere near Albany or that the pharmacist had responded so quickly. My town is like that.
When Maria went, Bridget walked her through all of the overwhelming instructions, pills, side-effects. She passed on advice about bowel movements, scars, sores. She called me later to ask if everything was okay.
___
There are big things connected to heart surgery – things relating to lifestyle, health, awareness, spirit. But there are the small things of healing. High tech American medicine knows a lot about dealing with the heart. It doesn't care much about the small things.
Today, for the first time in days, I began to come alive. Maria stood me in the shower and gave me a bath. I felt clean and human. We eat outside in the Adirondack chairs, I close my eyes and feel the wind, the breath of life, the gardens are strong and full. We love to watch the sheep and donkeys.  She cleaned and dressed my stitches and wounds – it is hard for me to look at them. She gets tired sometimes,and we both stop and sleep. I think it is much more exhausting to be her than me. I am meditating, reading, thinking, reflecting. I am healing.
My bowels came to life after various treatments and  remedies. I figured out how to safely clean myself after going to the bathroom. I am working on ways to get my pants on without help. There are large steps to being a human, there are small ones, they are equally important. It is my goal to be at my desk and back at work on Monday, writing another chapter on my "Talking To Animals" book, there is nothing that is more healing to me that writing. I lost a couple of weeks of my life, I'm not ceding any more. In a couple of weeks I have a whole round of follow-up visits to make, and I am signing up with a diabetes clinic in Albany, one of the best in the country, coming under their care. Their doctors managed my diabetes during the surgery, they are impressive.  I have a piece to write about the New York Carriage Horses, I have never forgotten them or their drivers, their torment and persecution continues in New York City.
This is, to me, the heart of recovering, the process of rebirth and renewal. My work is of the heart, my writing, my photography, my life. A health heart is the engine that drives the enterprise, I see that quite clearly now. I came very close to losing my life, I am finding it again.