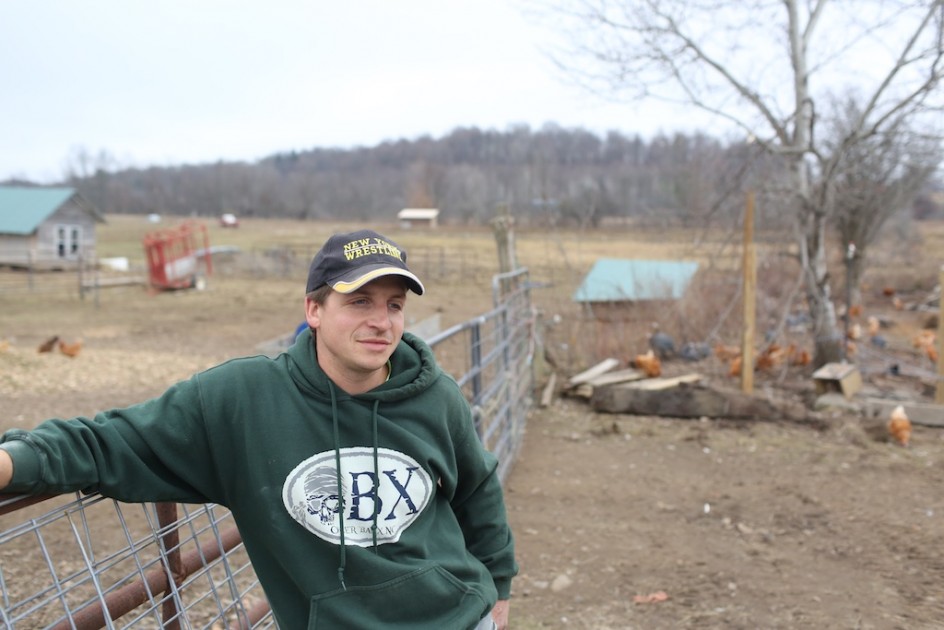 Joshua Rockwood and I text often. As is the case with many young men his texts are short, sometimes brusque. He is a very busy man, a husband, a father of two young boys, a farmer with 90 acres to tend and scores of animals, an accused animal abuser awaiting trial on 13 counts of animal cruelty.
Our New Year's Eve texts are typical:
Jon: Plans Tonight?
Joshua: I have a date with my pillow.
We check in with each other quite often, mostly asking if the other is okay. Joshua is up early, working late.
Potentially, it is a complex relationship, I have only known Joshua for about a year, we met after his arrest last winter, and I am a writer and blogger, which could make our friendship awkward. It isn't awkward, I feel very close to Joshua, I appreciate his trust and friendship. He has never told me what to write or even asked me what I am writing.
I don't have a son but would be proud to have him as my son. Joshua is quiet, intelligent,  and unusually  honorable. He is open, authentic.
Called by the secret informers of the animal world – they never appear in the light – the Glenville, N.Y.,  police raided his West Wind Acres farm in the worst cold wave in a century last winter. The police accused him of things any farmer might have been accused of, and impounded three of his horses for having overgrown hooves. A local columnist wrote that they used to jail people for stealing horses.
I talk to Joshua all of the time, he is invariably calm, measured, stoic, although even he sometimes can't  hide the anxiety and depression he has struggled with this year. So I was somewhat surprised to get the longest text message I have ever received from him on New Year's Eve. It is a powerful message, and although I usually write my own New Year's message, I am honored this year to share my New Year's message with Joshua.
It speaks to his soul, and to ours. It is, in many ways, my own message. We need to fight to keep the animals in our world, we need to treat one another with love and dignity and respect, we need to support one another in every possible way. If any one of us is not free, then none of us are free. If one of us is unfairly persecuted, then we all are.
Joshua, who never complains and has boundless perspective, wrote me that he has all in all, had a great year. "I've gotten to spend just about every day with my beautiful wife, and two healthy sons. (Joshua and his wife lost a daughter to illness during the holidays a few years ago.)
"I've watched hundreds of animals come into the world, I've been blessed to sit in pastures and watch cattle and sheep graze, lambs run and play. I've made thousands of new friends, had thousands of people stand with me, defend me, and show me how great humanity really is."
 He has, he wrote, developed the skills  to help others. "I've helped people feed their families in a healthier way, gifted animals to some people who deserve a helping hand, I've been able to donate food to food shelters. My house is warm, my family is fed, and they know they are loved."
 It has always seemed to me that Joshua has survived his time of great testing in part because he has always retained the gift of empathy and sense of values that  reminds him of what is really important. For all of the his pain and struggle this year, Joshua never seems to forget other people – he asks me every few days how I am. He has never stopped looking ahead to the future he deserves, to the future he is worth, to a world that needs healing.
He is the new eco-citizen that Pope Francis calls upon to help save the earth.
 "I do look forward to this case being over so that I can show the world what I am made of, continue to grow amazing food, and feed even more people. I look forward to helping many more people become involved in farming, and helping others to understand how food is grown. Most of all, I look forward to getting to spend more time with the amazing people who has supported me, and the great friends I've met. All in all, 2015 was good, 2016 will bring abundance in all parts of my life."
Joshua has his truth, of course, and I have mine. I can tell you that 2015 was as difficult a year for Joshua as most human beings will face. His reputation was savaged, his healthy animals taken from him, his business devastated, his personal life and plans upended.
Through it all, he has remained strong, clear, intact. He has remained determined to treat his animals well, sell healthy food, farm with respect to the environment, stand in his truth. He has faced enormously powerful people and forces quite willing to destroy him for the most ignorant and least defensible for reasons, and never lost his footing or values.
it is sad to see in Joshua's story and the plight of the New York Carriage Horses the lunacy and moral inversion that have infected the animal rights movement, the movement that claims falsely to speak for the rights of animals. The police could have raided any farm in the Northeast – dragging their politicized vets along – and made the same accusations against anyone with farm animals.
Before he is done, Joshua will expose the injustice and ignorance of his accusers and save countless farmers and animal lovers from the same fate. This, I believe, is his purpose for standing so strong and fighting so hard. He is showing us all what he is made of.
He is one of the amazing people I've met, it is a gift to be one of the many men and women who support him. At his first court hearing, more than 300 people, many of them farmers, showed up from all over the Northeast. "It could have been me," was the motto of each one.
I look forward to getting to know Joshua even better. We will remain in one another's lives, I am eager to chronicle his vindication and recovery.
I look forward to writing the post that says he has been cleared of these false and in some cases malicious accusations and is resuming his work to build a sustainable, eco-friendly farm with animals who range freely and live on pasture and good feed.
He is the kind of young farmer who may just save the world for us and our children. We should be helping him to do that, not ravage his life using the power of government to destroy him so unjustly. There are few few animals on factory farms or in the wild who would not be lucky to live on Joshua's farm.
I am not privy to the legal maneuverings of his case, but I believe in truth, and I believe in justice, and I believe Joshua will prevail, even against a dysfunction legal system that is insanely expensive, complex and time consuming.
Many of you have helped Joshua get to this point – we have helped him to raise money for his legal fees and to improve the infrastructure of his farm for the coming winters. I believe we may have to help him once more to bring his horses back to West Wind Acres Farm.
He is being asked to pay thousands of dollars in boarding and veterinary fees to get his own horses back, whether he is found guilty of the charges or not. It seems the rights of animals do not come cheaply. I will let you all know, and I know Joshua thanks you all from the bottom of his heart for supporting him, I do too.
We are almost there.