Attention Army Of Good. The inspiring Bishop Gibbons art project needs your help.
Sue Silverstein needs your discarded,  abandoned, and broken jewelry. She wants to recycle it in the best way – so creative students can make their jewelry from it.
Every day, especially after school, young men and women swarm the art bay devoted to making their own jewelry with found objects. I call it  Bead and Pearl world.
Sue's jewelry table.
They urgently need more. (Sue Silverstein, Bishop Gibbons High School, 2600 Albany Street, Schenectady, N.Y., 12304.)
I bought some jewelry-making kits on Amazon, but those will help with the binding and holding together of the jewelry.
She needs more old stuff, and Sue rarely asks for anything.
What the kids and Sue want are broken and abandoned jewelry pieces to work with. There is a table  (above) in the art room with baskets of all kinds of broken jewelry parts; the students pick the ones they want and make their own personal and individual jewelry.  I saw a lot of the students wearing them and putting their stamp on them.
The baskets are running out of jewelry.
I spent most of the day with Maria and Sue Silverstein in the Bishop Gibbons art suite she has put together in the school's basement  (photo above) –  all of them open bays available to any student in the school who wants to make something and be creative. She is doing something extraordinary and rare. Tying art into the lives of young people and opening up new veins of creativity and accomplishment.
Teachers reading this will know how important this is to all Bishop Gibbons students, rich and poor.
Sue stays well after school hours so they can find the time. She is my Art And Creative Angel.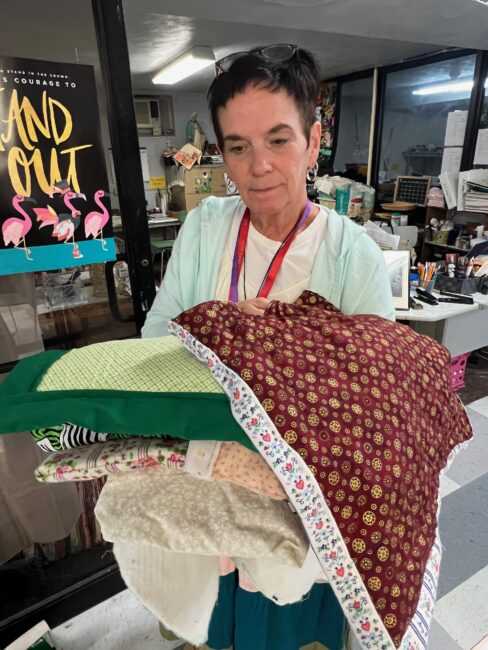 (Above, Sue holds some dog and cat beds the students have made for animal shelters. You sent the soft fabrics.)
Her art bays are free, for any student, of any age, at any permissible time.
They are making dog and cat beds for shelters, beautiful wind chimes, baskets out of sheets, and will soon be making totem poles out of square pieces of wood.
First, she insisted that I thank you all on her behalf.
"I hope you realize we could not be doing any of this art without the support your people in the Army Of Good have been supplying."
Thank you from me as well. You are blessed people.
You are still sending boxes of things.
The art supplies started coming weeks ago, and the discarded and abandoned and forgotten objects and fabrics and metal objects and porcelain pieces and beads and stones and metal objects people have been sending her from all over the country are in full and furious use.
(Bishop Gibbons's mailing address is: Sue Silverstein, 2600 Albany Street, Schenectady, N.Y., 12304.)
I saw them today and took a bunch of photos I will put up tomorrow (I have a lot of sorting and uploading to do).
But tonight, I'm asking people to answer Sue's call for discarded and broken jewelry; the students at Bishop Gibbons are wild at the idea of making their own jewelry out of the beautiful jewelry no one else is using.
Grandma's older stuff is very welcome.
They also flock to Sue's extended-hours art room after school to sew. Maria found two old Singer machines in good shape that a dealer offered us for the refugee and other students at Bishop Gibbons. We're bringing them to the school. We already gave them six new Singers.