I spend so much of my life watching the sky and the clouds now that I feel the sky is speaking to me sometimes, it calls me to look up and pay attention, and I will know what's coming. The message today is all cold, bitter cold, seriously cold, cold that challenges us here on the farm to take extra care of our house, the dogs, the sheep, and the donkeys.
The weather forecast calls for brutal windchills, especially Friday night and into Saturday. It's dangerous stuff, and I know I will have to stay indoors for most of the day and night. I will venture out to take some cold photos; I expect they will be unusual.
Arctic skies are often very beautiful.
The animals have hay, grain, and warm water, and the Pole Barn has some straw (we keep a supply) and the animals will be out of the worst of the wind. We've insulated the water pipes out to the barn and will keep the wood stove and oil heat going simultaneously, which we haven't done much all winter.
If the wind is severe, we may sleep down by the wood stoves; the bedroom windows are a bit leaky, and we will need to replace them at some point.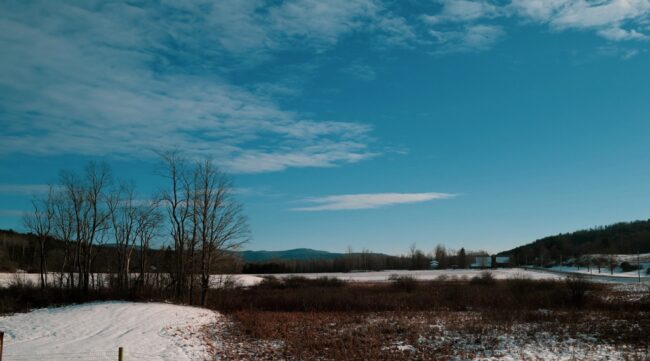 The good news is that it will be warmer Sunday. I sense there will be more storms, but the heart of the winter seems to be whispering goodbye; it always leaves with a sharp message: "pay attention."
I think I actually saw the cold front coming in this photo above. The temperature dropped, the wind picked up, and I could feel the chill in my bones. I feel the cold in my bones; it's hard for me to stay warm. I sure won't be going out naked in the morning.
Just before I took the first photo, the sky was a soft blue, also what I would call a cold sky. I am curious to see what the freezing winds will bring us tomorrow. We have a sick ewe we'll have to watch, more later. Maria loves this weather; she just came in from a walk, my Willa Cather Woman.