I drove past Billy Webster this afternoon as I was coming home from the farmer's market, and I didn't know his name then but saw him washing every inch of the Cambridge Fire Department Engine 58-TA-221.
I pulled over and asked him if I could take a photo of him and the fire engine and he said sure, as firemen often do. They are very proud of what they do and for good reason.
In the country, they are eager to talk to people in their communities, as they desperately need support. The hard-pressed volunteer companies remain, in many ways, the heart and soul of communities like ours. In our town, they are the very symbol of community and trust.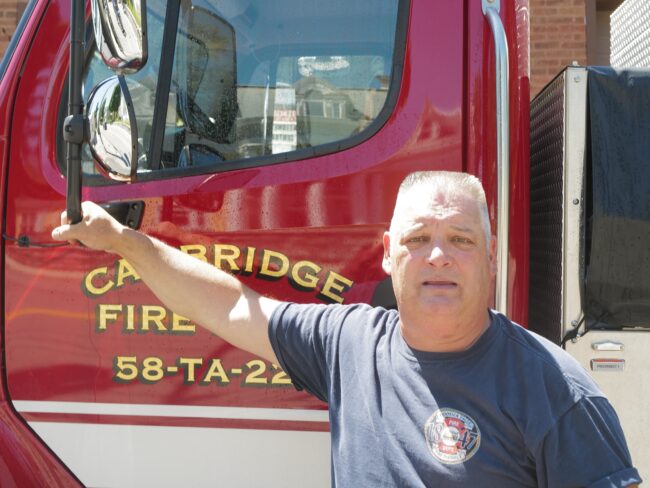 As a child and as a reporter, I was always drawn to firemen, a rare and proud and often heroic breed of man, and now women. When I was eight, I trekked to the nearby firehouse and was allowed to sit in the cab and if I was patient, even turn on the siren.
They would never let me come along on fires, but I did fantasize about being one and was welcome to hang around the station.  I have never forgotten their kindness.
Billy Webster sure looked the part, I might have tagged him as a fireman anywhere, and I sat that as a compliment. He was rubbing and brushing and sweating, and the engine looked as if it had just rolled off of the production line.
I've never seen a dirty fire engine outside of a firehouse in the country. Billy was larger than life.
If I am ever trapped in a fire in the upper reaches of our farmhouse, Billy is the person I would most want to see coming up the ladder to rescue me and or Maria (and the dogs too, no doubt.)
We are a divided and polarized country, but the idea hasn't yet poisoned or filtered down to the volunteers of the Cambridge Fire Department or the thousands of volunteer companies like them that dot the country. There is no polarism in this firehouse, if you call for help, they come running.
Alone among government and bureaucracies, if you call the firemen, you know for sure they will come as quickly as they can. The volunteers are our neighbors and friends. They always show up, and often at great risk to themselves.
They are the original first responders and they are equal opportunity rescuers.
They don't stop and ask who you voted for or what political party you joined. I don't care what anybody says, the idea of community is alive in the small towns of America. If you ever doubt it, just walk into any firehouse while the volunteers are scrubbing their engines, as they do obsessively several times a week.
Volunteer companies are one of the things that rarely, if ever, exist in urban communities. They give us something important to share. I had no hesitation writing a check to the fire company for their new building.
I really like knowing they are there, and I realized today, that a photo of a volunteer engine being washed is an iconic American photo.
I caught Billy cleaning the engine because he is going to drive it in a parade in nearby Hoosick Falls. Our town doesn't have a Fourth of July Parade, so he's happy to help out the other towns, the volunteers love to parade their engines down Main Streets, sirens and horns blaring and honking.
I had a really nice talk with Billy. I loved his openness, enthusiasm, and dedication to helping people in trouble. He is one of the big men in trucks that make life work up here and binds us together.
He knew of the blog and said he had seen me crawling around the country with a camera, he's been a fireman a long time and loves this work. You can feel his commitment to the fire company and to this way of helping his town.
Our town is tough on school budgets but loves its fire company. Recently, the town raised nearly $4 million to build a beautiful new firehouse. They deserve it. As you can see in the photo, the old municipal building was built for horses, and it was and is a white knuckle matter.
The new station opens in July. "Stop by," Billy said, "we'd love to show you around." Deal.