"I was scared. Do you know what it's like to hold someone else's life in your hands? It's like playing God. Can you think of anything scarier than that?" – Sidney Sheldon.
Today I was in the place I never wanted to be in, and even a couple of days ago I wasn't expecting to be in. I'm Playing God.
Thursday, we had our meeting with Susan and her doctors and her brother, and there are some seminal decisions to make, and yes, I am scared. And also prepared.
Playing God is, says Ramez Naam, the highest expression of human nature. Life becomes so very real and meaningful. I learned a lot in the past few weeks, and today.
I could sense the mood of the doctors when I came in.
I had seen this before as a hospice volunteer. They were serious, sad, they had no good news to pass along. Few people can hide having bad news. Further medical treatments would be pointless they said, they were at a turning point.
There was a long list of things going wrong inside of Susan. And she looked gravely ill, and was often incoherent.
Doctors rarely say more than that, but their meaning was clear.
Susan is dying. Her kidneys are failing, so is her liver, there is an infection in a heart valve, and she has metastasizing cancer in her liver. Her body is swelling with fluids, and she is incoherent.
A representative from Hospice appeared, and since I didn't invite her, it was clear the doctors did. The doctors had nothing left to try.
So this is very different than even a few days ago. Susan cannot recover from this, she is failing more and more each day. There is nothing to be done.
Three of us have been asked to be Patient Advocates by Susan. It's time for us to do our jobs, the light is on us.
The three are Susan's best friend Donna, me, and her brother Steve, who lives in California and who has not seen Susan in years. He is an awfully nice,  thoughtful, and intelligent man, but he and Susan are not close.
She was very happy to see him, they had a true reunion in her hospital room.
He is sitting with his sister tonight.
He is going back home in the morning.
What does it mean to be a Patient Advocate?
It's a kind of stewardship. The doctors are free to speak with me and share Susan's medical information and prognosis. My job is to act in Susan's best interests.
That can mean challenging her, or it can mean challenging the doctors.
In this case, it means making sure Susan gets the best possible care, that she never goes home to her empty house, that she is made as comfortable and pain-free as is possible.
Donna lives in New Jersey and is caring for her very ill mother, Steve lives in the San Francisco Bay area, he is a successful headhunter for tech companies. I would like to have known him in a different context.
Susan is very much alone now, and for now, I am the one who is here. In a sense, Susan has been alone for much of her life.
I am happy to be that person who is here and to take responsibility for that. Yes, it is draining and awesome, it is also important and rewarding in its own way.
I always guessed that if I was in the business of saving lives I had better start with my own. But I am not in the business of saving lives now, I'm in the business of working to end one comfortably and well and with dignity.
It is very hard to die with dignity in a hospital, no fault of theirs. It is very possible to die with dignity in hospice. It is what they are about.
Steve and Donna and I talk frequently and openly and we have agreed that whatever decisions we make for Susan will be made unanimously, or not at all.
We tried to get Donna on speakerphone during the meeting, but the connection wasn't working. I called her and filled her in. She and I are in complete agreement.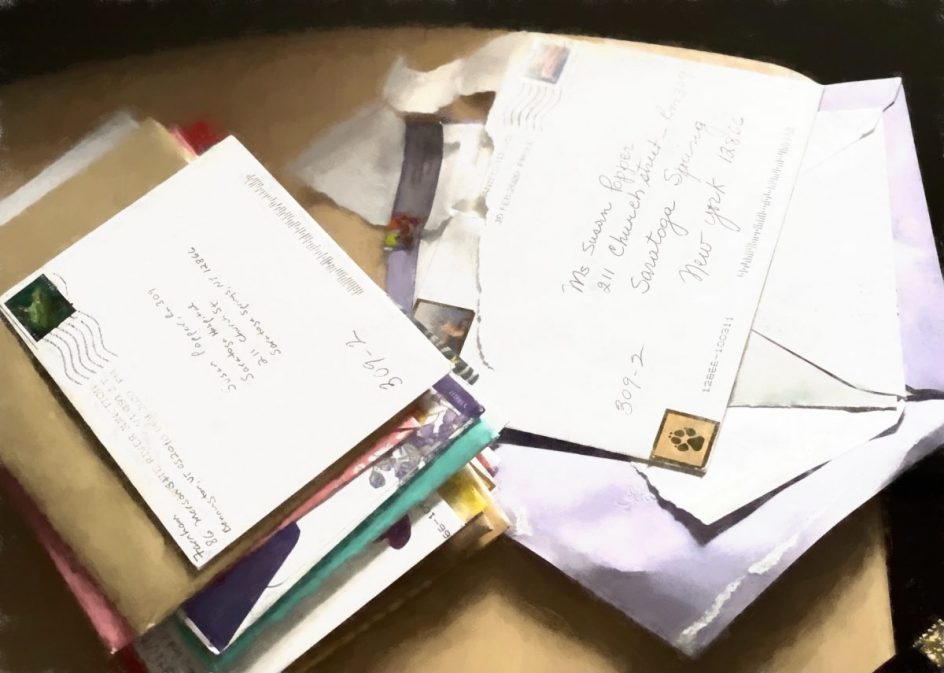 Thanks for writing Susan, these are the letters that came today.
Her address is Susan Popper, 211 Church Street, Saratoga Springs, N.Y., 12866. Room 309. Thanks for writing her, she loves the letters, it can get awfully lonely in a hospital.
And the time for hand-wringing is over, the time for decisions has come.
Susan's organs are failing and the doctors said there is nothing more to do for her medically. They invited a hospice representative to come, and this lifted me up, as I am a hospice volunteer and was thinking as she walked in today that Susan desperately needs to be in hospice care, and right now.
She had an awful day or two suffering through painful tests and efforts to drain the fluid that is filling her body. She was talking openly but made little sense. The long and painful night seem to knock her down.
Susan is drifting in and out of consciousness. It is hard to be certain about what she knows or understands.
The doctors – and Susan – have asked me to meet with them and Susan again tomorrow afternoon. My sense is that they hope we can persuade Susan to accept hospice care. I think this task will fall to me.
After the doctors left, I had a long and honest talk with Susan. I told her there was nothing more the hospital or doctors can do for her, and further tests and procedures will only make her uncomfortable.
Her body is too weak for chemotherapy or other palliative treatments.
And the tests make her uncomfortable.
Then I prayed in the car all the way home to make sure that I know to do the right thing. To Play God well and wisely. Susan and I were close at one time, then fell apart. We are close again now.
I appreciate the support Susan is getting from my blog readers. They have offered to adopt her dog, have sent her dozens of letters instantly, they have written me many times in support of this work, have offered to contribute if funds are needed. We have made a difference.
Donna, Steve and I all believe it is time for hospice care. Because Susan is so ill, she can remain in the hospital and hospice can treat her there. But the hospital can't treat her medically and keep her comfortable.
And there is no way for her to go home.
Up until yesterday, I held back advocating hospice, but the time for that is over, too.      Hospice is now her best shot for having some comfortable and peaceful time.
Hospice also has a special facility in Saratoga, and she could go there if she wished. I asked her if she understood what I was saying, and she said she'd like to postpone hospice so she could take swimming lessons.
She paused and then smiled. "That doesn't make sense, does it?"
No, I said, not much. Maybe she could shoot for something simpler, like taking some photos and doing some writing, and talking to her friends. Oh, sure, she said, that would be great.
Susan had been telling me for days about her hopes to change her lifestyle, eat healthy foods, exercise more and lose weight.
I smiled and took her hand. "Susan," I said, "I need you to understand me if you can. There will be no swimming lessons for you. You are not well enough, and there is no time."
It was a hard thing to say, but it got through. Susan always asked me to tell her the truth. She looked at me, squeezed my hand, and said simply: "Oh. Thank you for being honest."
I talked with her about time, and I urged her to think about time in a different way. People to talk to, letters to write, phone calls to make, perhaps prayers. I urged her to think about peace and release, and the spiritual side of things.
I told her we were all going where she is going. I told her a lot of people cared about her, and about the very hard life she has had.
But the hard thing about Playing God right now is that when we can finally and honestly talk, I'm not sure at all that Susan can hear or understand me. Life is pig-headed, as she is. It often just won't co-operate.
So the meeting was, in fact important, and it did make things clear. And the doctors were honest and open. And I believe we do know what to do, the path is clear.
On the Sally front, good news.
Given Susan's condition, there is no longer any reason for Sally to stay close to Saratoga or Cambridge.
I told Donna she should feel free to give the dog the best home, anywhere in the country, New Jersey, Oregon, anywhere.
She plans to drive up to see Susan next week and bring Sally, so Susan can see her one more time.
We may need to raise some money to get Sally where she needs to go.
Tomorrow, I'll bring this quote to Susan and read it to her:
"Indeed, the truth that many people never understand, until it is too late, is that the more you try to avoid suffering, the more you suffer, because the smaller and more insignificant things begin to torture you, in proportion to your fear of being hurt. The one who does most to avoid suffering is, in the end, the ones who suffers most." – Thomas Merton.