The photos I took at Bishop Maginn today speak for themselves. I encourage you to look at them all. They are the faces of joy, friendship, love, and excitement.
As a man who has never been to a prom, I was slow to grasp the importance and meaning of the dresses Tania Woodward gathered to give to the Bishop Maginn High School students to wear to their last prom and Bishop Maginn's last school activity.
I get it now—what a day of joy and laughter and community – and generosity. Bishop Maginn is one of the most diverse schools in the country, and I was struck again by how well the students mixed, and how much they cared for one another and root for each other.
It can be done. You can read Maria's account of the day here.
(The first photo, above,  is of Say, whose tuition we helped pay last year. She has evolved into a strong, warm, and intelligent young person, loved by many friends and teachers. The photo took my breath away for a bit; it said it all.).
The prom night has enormous significance on many levels, but the distribution of the proms gave me – Maria also – one of the most joyous and meaningful days of our lives. We left with hour hearts up in the air.
We arrived with five huge sacks of prom dresses collected by friend Mansion aide Tania Woodard, whose family was too poor to buy her the dresses she dreamed of – much like the refugee children at BMHS.
                                               (Vonelise Washington)
Tania read about the prom on my blog and saw a chance to give other poor young women a chance to wear the kind of dresses she couldn't afford as a child, and they couldn't either – most are inner-city and refugee kids, and they are used to denial,  struggle and worse.
We showed up before noon, and it took six or seven strong boys and girls to get the bags into Sue Silverstein's art room.
While I took pictures, Maria and Sue pulled the gowns out of their bags and hung them on Sue's clothesline, and Maria helped put them up. The response was electric. The female students showed up in a stream that lasted all day, trying dresses on, rushing into the girl's room to change, texting, laughing, blushing,  and e-mailing their mothers in excitement.
(Nashea Horne)
The room was mobbed from that point on. Principal Mike Tolan came in and told Sue, "well, I see nobody will be doing any work today." Nobody did. Even the boys came in to see the excitement. I took many beautiful photos, and I want to share them with you.
"I can't believe people gave us these beautiful dresses," said one student, "thank you!"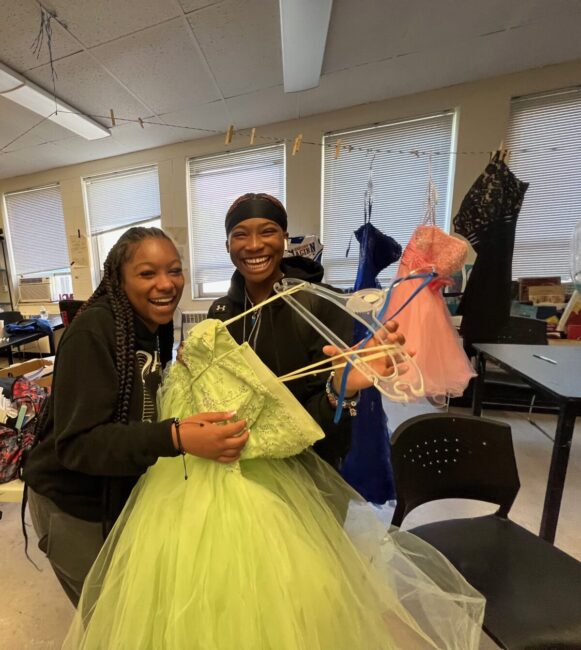 (Nashua and Gabby Taylor)
The photos speak for themselves.
I am working on getting all the names right; they deserve no less. I am grateful to Sue, Maria, and Mike Tolan for letting this happen, especially to Tania Woodward, who spoke from the heart today.
She has added a sensational level of excitement and glamour to a prom already laden with meaning as these children leave the school that helped so many of them in their painful and often arduous journey to and into an angry and divided America.
For all of its troubles, this is where they want to be.
(Trinity Broderick)
This was a day that the good guys won; the others could spout all of the hatred and lies they want; this is what the human heart needs and wants to see.
I hope you can take the time to look at the pictures; all you need to see in the faces of these remarkable young people and what their prom – and their prom dresses – mean to them.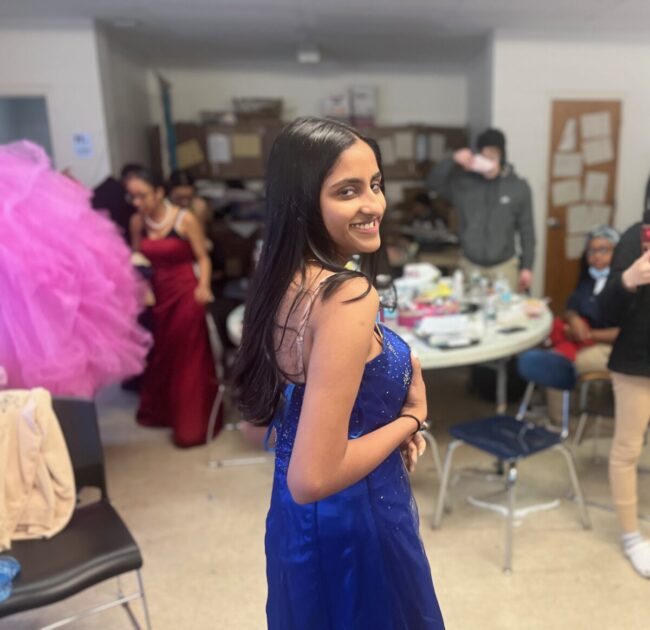 (Shanzay Malik)
"Where did this come from?" the kids and teachers asked me. "They came from somebody just like you," I said, "a member of the Army Of Good who knows what it's like to want a beautiful dress you can never have." And yes, I saw, you do need to be female to grasp its power all.
(Asani Castillo found her dress)
All of us cried at one point or another today; it was one of the most incredible experiences. Come along and see.
Sue and Maria did a remarkable job of keeping everybody calm and displaying the dresses and helping the girls pick them out. One or the other held the gown up and one of the girls would raise their hands and come to try it on if interested.
Maria helped several shy girls change into their gowns, the girls were excited but well behaved. As news spread through the school about these beautiful gowns being given away, the room filled up and stayed full all afternoon.
(Say. Again.)
Principal Tolan was right. Nobody got any work done. By the end of school, all of the gowns were gone. The kids all asked where Zinnia was, but I had to tell them there was no room in the car for her; the back was stuffed to the ceiling with gowns.
(There was one set of tuxedo jackets and pants, and O'Zias Pollydore got it)
I was sorry Tania Woodward couldn't be there to see the impact her gowns had on the school. She is exhausted, having worked long and grueling hours to fend off yet another Covid scare, along with the other Mansion aides. The Mansion is safe again, and I'm returning next week to resume my classes and visits with Zinnia.
(Camilla Rivera spotted this dress right away, and her friends raved about her appearance. She is quiet, even shy, but was delighted to find her prom dress. It did look great)
Sue Silverstein's art room is a chaotic place in the best of times, kids show up at lunchtime to hang out, see friends, eat their fish n-chips and burgers at the tables, gossip and flirt, and I don't think the room could have handled any more people today.
It is a fun place, a safe place, a loved place. Sue presides watchfully but lovingly. She has a great gift for getting children to behave without threats or stings.
(Emani Colon)
I asked each of the girls if they wanted to be photographed, and each one – even the shy ones – wanted to have their pictures taken. They were all beaming and proud, it was a joy to see them so excited, and the dresses made them even more excited about the problem, coming up in the middle of June, about a month away. It will be held at the school gym.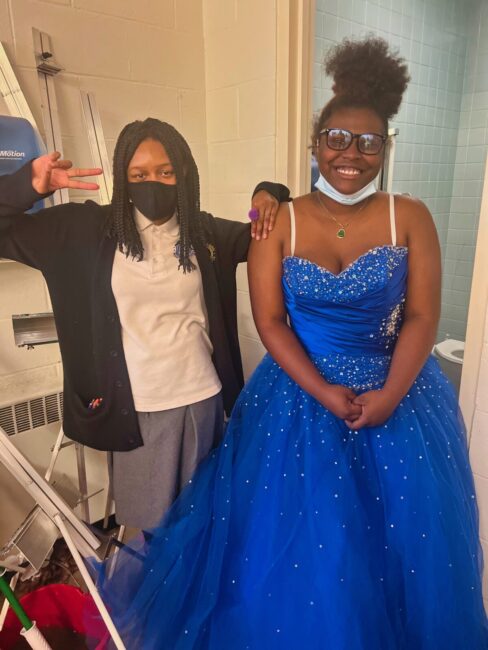 (Paris cheering on her friend Madison Chapple)
The care struck me the girls took with the dresses; they treated them gingerly and carefully. It seems that everyone who wanted a prom dress got one they liked. A few were working on making their own.
(Jazlyn Peralta)
One girl came in and scoffed at the very idea of a prom dress. "I'm not going to any prom," she said. A half-hour later, I saw her take one across the hall to a classroom being used as a dressing area and came back quietly to ask Sue if she could take it and wear it to the prom. Sue said sure.
(Asani Once More
Thanks for looking at these pictures; they will lift the cold and most beleaguered heart. I hope you enjoy seeing them as much as I enjoyed taking them. This was a memorable day; I won't soon forget it.