I rarely get to see Maria and the Bennington Beledi dancers, and we both worried I was too sick with Covid to go and help out. But as it turned out, seeing Maria dance was the healthiest thing I've done. I feel strong and healthy, and eager to get on with life.
Belly Dancing was a shock to me, not that I had any great misconceptions about it, but it just didn't cross my radar much. When I heard it mentioned, it was usually men leering at the idea of partly naked women dancing for them. When Kitty Farnham, a close friend of ours and a long-time belly dancer (now retired), told us there was a belly dancing performance we ought to see, we decided to go. We both were shocked, delighted, and hooked.
Belly dancing has nothing to do with men and what they might want or not want; it is all about women who want to come out as independent, proud of their bodies, and willing to work hard and closely with others to master an ancient, complex, rule-bound and quite an exotic form of dancing. It is tough to belly dance; it takes years of hard work, cooperation, and learning.
In my mind, Maria was the last person in the world to show her belly in public, not that it's such a big part of belly dancing. It is the only part of a dancer's body that is seen, and that is not an accident. But it is also an affirmation, saying, "I will define myself and be proud of myself, no matter how big or small my belly is. Nobody will tell me how to look."
Maria reacted as if she had been waiting for this opportunity her whole life. The teachers – Julz, a fiercely gifted and independent teacher, blogger, chef, and businesswoman, and Kathleen, patient and open – taught Maria will warmth and honesty.
She has done it every week for five years, pandemic or not (they went virtual), and practices every day of her life. She says she has a lot to learn, but Thursday, I was proud and excited to see how well she fit in, how well she did, and how brave and determined she is. Belly Dancing was a great gift to her; she understood who she was through it.
For me, it is just wonderful to watch. I love everything about it, the syncing, the sense of comradeship, and the music itself, which is, at times, warm, exciting, surprising, and touching.
Seeing these remarkable women worked so beautifully together last night was a gift to me, and Covid disappeared from my conscious, and in many ways, from my body. I could feel it.
I put up three videos on YouTube, which can be seen on my channel here. Take a look if you want to see what I saw. Here, I'm posting five portraits I took with my Leica last night with my new Leica 2 camera (is it still new?).
I was tasked with taping the event, so I didn't have time for the close-ups I'd like to take of the dancers if they permit it.
I've also added six still pictures I took that I think and hope to capture the night's feel. I hope you enjoy them. I want to do more.
Dress and style are a huge part of belly dancing. Maria and other dancers work hard on their skirts, headpieces, zills, necklaces, colorful brassieres, and make-up. Maria has never worn make-up a single day of her life, but we ran to the Dollar Store yesterday to get some for tonight.
Belly dancing is part of a culture with rich traditions; it is also being reconsidered to move it more directly into contemporary culture and draw new dancers. The group welcomes new members. But it's hard to see how they will change, the Beledi dancers seem to love the form so much, and it shows.
Last night was the group's first performance for outsiders in three years. I see that they loved it, worked hard at it, and believed it made their dancer sharper. The feeling was powerful, both uplifting, affirming, and beautiful. These are robust but compassionate women; they work together weekly without tension, jealousy, or cruelty. It makes me feel hopeful to see them.
Below is my partial photo album from last night. The photos speak for themselves and show the dancers' closeness and connection with one another. The music has so much spirit. I forgot to bring my tripod; the light was fading, but I did all right. This is a part of our culture that should be captured and documented.
_________
_____________
_______________
________
_______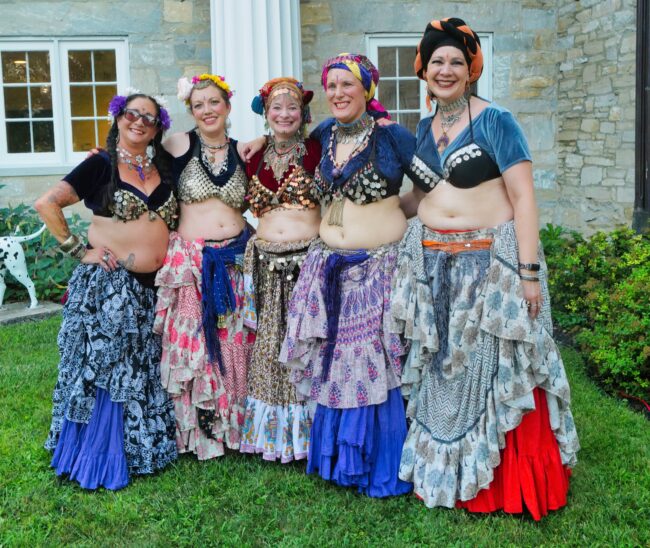 Thanks for sharing this moment with me.