I grew up learning to fear intimacy and keep it at bay. There was no one I trusted or permitted to get close to me until I met Maria about 15 years ago. I was too messed up to have a healthy relationship, I suffered, and so did the people around me.
Maria inspired and triggered the long and arduous process of opening me up – to love, to friendship, to take the risks of getting too close to people, which has always been painful and dangerous – and mostly unsuccessful – for me.
Well, into middle age, I began the challenging process of opening up to the reality of my existence and how far I had drifted to the life I was meant to live and wanted to live.
My vision for my blog was that writing about my life would help me be more open and honest.
You have to learn to be truly authentic to do that; there is no choice,  and my blog and photography opened me up to that and sent a sea of demons fleeing from my consciousness.
This morning, sitting with Zip, Maria came out of the house to visit with us, and she understood something different was happening inside me. I was sitting with Zip in my lap; we were both calm and at ease. I felt something compelling inside of me.
Zip and I were on a journey.
She whipped out her camera to try to capture the moment. She did. When I looked at her photos, I suddenly started to cry, shocking both of us. She was amazed and also pleased. This, she said, was a beautiful thing.
She asked me why I was crying, and I said it felt like Zip was scraping the rust off of me and my ability to open up to the warm side of the world.
Maria knows better than anyone on the earth about the difficulty of opening up and trusting someone to get close. Animals were an excellent place to start for me. I always trusted them and felt safe around them.
Opening up to other people and accepting intimacy was the most dangerous thing in the world for me, but I will never give it up again.
I think animals softened me up when I was most guarded and alone. They have never harmed or failed me, not even poor Orson, who I put down after he bit three people, including a child. He led me to the country to buy a farm.
I left my life and family alone on the first Bedlam Farm for six years except for a troubled border collie. I went there with a dog I still miss and think of often – Rose.
In his book "Pathways to Bliss," Joseph Campbell writes about the hero journey, the great adventure of restless and troubled people who leave the familiar behind and set out to discover what their lives are really about and what they are truly capable of.
The hero's journey is a great leap of faith, and Campbell writes about the many people who never make it all the way and are overwhelmed by the risks and dangers of setting out to discover themselves.
On the journey, he writes, there is great danger, but lucky seekers keep going and are helped by magical helpers, who often take the form of animals. Rose was a helper, as were Izzy, Simon, and Red. I was living the journey.
Maria was my human magical helper; she came out of nowhere to transform my life.
Each of these animals, directly and indirectly, began the complicated process of opening me up, something I still resist and fear. Maria was the first being in my life who showed me the rewards of opening to love, a lesson I am still learning and will always be learning.
When Maria asked me why I cried after seeing the photos she had taken of me and Zip this morning, I didn't have an answer. I had to think about it.
It was pretty cold, but I saw Zip waiting for me on the back porch table, as usual. I put on a sweater and went outside to sit in the blue chair where he and I usually meet in warmer weather.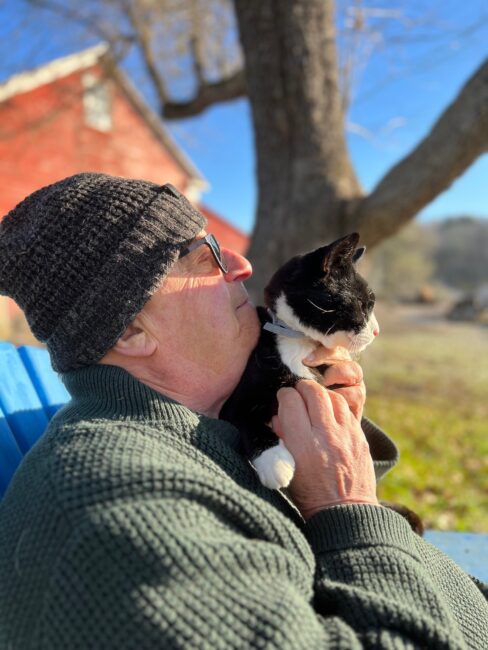 Zip jumped into my lap and pressed his head against my shoulder and chin. He is never still, but in my lap, he curls up and doesn't move.
Seeing this willful, beautiful, fiercely independent animal open up to me was powerful. He felt soft and warm, and I could feel his purring in my neck and chest and my heart beating behind him. He had opened up to me, and I was doing the same with him.
I had the feeling – perhaps a fantasy – that Zip was going through the same thing as me in his life.
He is learning to open up to people who care about him and are willing to offer him love and companionship.
Like me, he isn't looking for a score of friends; he isn't eager to be close to a thousand people; he doesn't care if anybody approves of what he does; he loves his independence, freedom, and sense of place.
I imagine that Zip and I are home; we have found the place we want to be.
If I get my wish, I will die here on this farm; I'm not moving anymore. I've come home also. I get the same feeling with Zip. I  have the feeling his first year in the world was difficult. He is hyper-vigilant.
Zip, a creature even more restless than I am,  seems to love looking at the world with me.
We became instant friends, but now, something more than that. This surprises me.
I am not what people call a "cat person." I'm not big on labels. I don't emotionalize animals.
I have nothing against cats, but no cat has ever affected me as much as Zip.
I loved Red dearly, but he never once sat in my lap or purred while I rubbed his neck and chin.  Neither did Minnie or Flo.
Zip has found a way to break through the iron wall I put up around myself and get close. And I love it and feel emotional about it.
I won't deny that Zip has made his way to my heart. His life touched me, and I almost instantly felt the deep connection we had to one another. As I often am, I was surprised when I learned something I should have known about myself.
We sat for a half hour this morning in the cold, looking out at our beautiful landscape while I stroked his back and scratched his chin, which he loves, listening to the geese flying overhead and watching the marsh, where Zip seemed to see so many more things than I did but was a gentleman about it. He just curled up next to me.
Curiously, I sometimes think we are doing the same thing – meditating, looking out at the landscape, trusting one another. The cat who never wants to be in a lap loves to be in mine. The cat who lives to hunt is waiting for me whenever I go outside, and after we spend some time together, he gets to go hunt, and I go to work.
The man who shies away from cats loves to be with this one, who fears getting close to people, is happy getting close to him.
(When I get inside to my office, another animal waits to be with me and help me open up. Every morning, I give Zinnia a marrow bone, and when I sit down to write, I hear the industrious chomping of a bone. This is a beautiful sound for me to write by.)
Zip and I seem in sync with the world. I guess that Zip suffered before he came to us, but I can't say for sure. It's just a sense I have from knowing him. There is a needy part of him. Perhaps the thing we share is pain.
At times, he seems to be drinking up the attention and love he is getting now.
Every morning,g when I come out, Zip waits for me on the back porch table. A restless and impatient creature, he waits for me patiently, and he is not a patient animal.
Zip surprises me every day. This morning, he became obsessed with something moving above him in the apple tree. He misses nothing around him.
We were told Zip does not make cats or other animal friends, nor does he accept intimacy; he doesn't want to be in anybody's lap and has no interest in living inside. He does fall asleep in my lap.
Perhaps this connects me to him: two intense and restless beings who find warmth, comfort, and love in one another. We are learning to love.
I don't know how this happens, only that I feel it deeply, and it brings me back. It also makes me tremble and cry, at times something that both lifts and embarrasses me.
I suppose this is why I cried; these pictures Maria took tell the story.