I looked out the window just before breakfast, saw the skies, and ran off to get my camera. I'm suspicious. I believe Monday morning sets the tone for
Monday mornings are special for us, the beginning of a new week to love, think, do some good and focus on the many good things in life, not just the bad.
I see every day as a chance to begin something and an opportunity to grow, change, and learn.
At first, I thought the skies were angry, but the clouds were so beautiful today that there almost had to be some sacred message.
I imagined it: "get going; you have another week at least to live and do some good."
Ok.
That's the way I decided to look at it. My day begins with Bud going to the dentist (photos coming). There is a lot to do as I make the transition from a quiet week to a busier one.
A beautiful sky is a good omen for the day and the week.
It's a busy week. The Mansion tomorrow, a Ukulele lesson in the afternoon, and Bishop Gibbons later in the week. I hope you all had as sweet a Thanksgiving as we did.
I'm in a surgical boot for at least a week and a half, and on Friday, I have my foot measured for a special brace that will hopefully give my foot more support and fend off the dread callouses.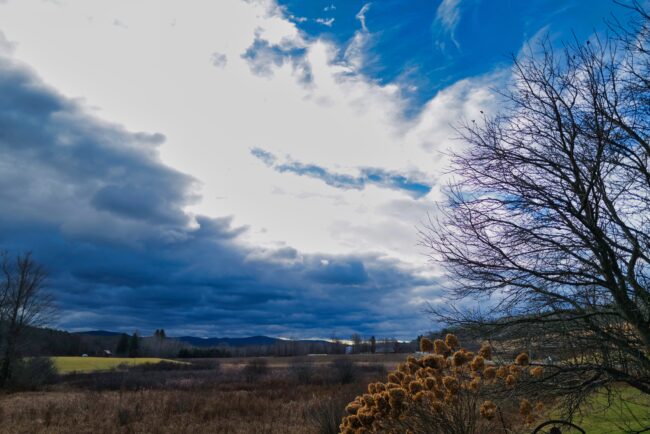 The lobster tails we had for Thanksgiving dinner were delicious, and so was the Butternut Squash pudding Maria put together for our dessert. We made three bars of felted soap, a first.
I loved the sky this morning; a perfect launch and inspiration for the new week. When I came in, Maria sat at the table editing her Monday Morning Video, a creative way to start every week.
I always think of her as being in post-production, a term I learned while working in television. Now, I don't even own one. Below is Maria in Post Production. Here's her Monday Morning Video.